14 November 1541 – The inventories of the possessions of Thomas Culpeper and Lady Rochford
Posted By Claire on November 14, 2017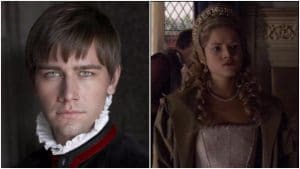 By 14th November 1541, things were not looking good for Thomas Culpeper, a member of the king's privy chamber and a man who Francis Dereham, secretary to Queen Catherine Howard, had claimed "had succeeded him in the Queen's affections". It was on this day that an inventory was taken "of the goods and chattels, lands and fees of Thos. Culpeper, the younger".
The inventory included his possessions "At the King's palace of Westminster" which included "two caps of velvet (described) that the King gave him" along with other items of clothing and "some swords, daggers, and sundries"; his horses, harnesses for the horses and furniture "at various places"; "Debts and ready money owing to him"; revenues from his lands, which included several manors and a former monastery in Kent; his various offices (the king had been generous with these); his possessions in his house at Greenwich; and his furniture, hangings and possessions "within the great loge at Southfryth of Master Culpepper".
An inventory had also been taken of Jane Boleyn, Lady Rochford's possessions by this time:
"List of plate (7 items), apparel (11 items, one "a little steel casket with a purse and forty pounds in it"), and jewels (8 items, viz., "a broach with an ag[ate], a cross of diamo[nds] with three pearls pendant, a flower of rubies, a flower with a ruby and a great emerald with a pearl pen[dent], a tablet of gold with black, green, and white enamelled, a pair of bracelets of red cornelyns, a pair of beads of gold and stones, a broach of gold with an antique head and a white face."
Pp. 2. Endd.: Plate, apparel, and jewels that were the lady of Rochford's."
Jennifer Rowley-Williams has given a full list of the plate and apparel, based on P.R.O. S.P. 1/167/163-163v:
"Plate
A payre of flagones of sylver wherof one lacketh a stople
A salt of sylver and gilt wt owt a cover
A newer of stone wowt a cover wt a hope of sylver and gilt
An nother newer of stone wt cover hope and fote of sylver
a bason and an Ewer of sylver parcel gilt
A litle tase of sylver
A Casting botle of sylver and gilte
A litle crewes of sylver [this item seems to have been deleted]"
"Apparel
A kirtel of black velvet
A kirtle of black saten
A nyght gowne of black taffeta
A gown of black damaske
A gown of black saten
iij fayre bordures of my ladyes of goldsmithes work black enameled
xviij fayre perles
A fayre broche black enamelled wt six small diamondes
A litle stele casket wt a purse and forty pounds in it
v perles and certyn peces of broken gold in a box
xi small perles"
It is interesting to note all the items of clothing listed in this inventory are black. Was Jane wearing black to demonstrate her wealth and status, or was she still wearing mourning attire following her husband George Boleyn's execution in 1536? We just don't know.
Thomas Culpeper was found guilty of "high treason against the Kinges Majestie in mysdemeanor with the Quene", along with Francis Dereham at a trial at Guildhall, London, on 1st December 1541. Both men were condemned to death and executed at Tyburn on 10th December 1541; Culpeper was beheaded and Dereham suffered a full traitor's death. Jane Boleyn, Lady Rochford, was beheaded along with her mistress, Queen Catherine Howard, at the Tower of London on 13th February 1542.
Notes and Sources
Picture: Torrance Coombs as Thomas Culpeper and Joanne King as Jane Boleyn in "The Tudors" series. Unfortunately, we do not have portraits of Culpeper or Jane.
Marillac, the French ambassador, recorded that Dereham "to show his innocence since the marriage, said that Colpepre had succeeded him in the Queen's affections", Letters and Papers, Foreign and Domestic, Henry VIII, Volume 16, 1540-1541, 1366.
You can read the full inventory of Thomas Culpeper's possession in the online version of Letters and Papers, document 1343. Jane Boleyn's is document 1340.
"Image and Reality: The Lives of Aristocratic Women in Early Tudor England", A thesis submitted for the degree of Doctor of Philosophy at the University of Wales, Bangor, 1998 by Jennifer Rowley Williams, p. 298, 299. Rowley-Williams quotes from P.R.O. S.P. 1/167/163-163v. The thesis can be read at https://core.ac.uk/download/pdf/29187693.pdf.
Cherry, Clare and Ridgway, Claire (2014) George Boleyn: Tudor Poet, Courtier & Diplomat, Chapter 24: Aftermath, MadeGlobal Publishing. It is also noted here that George Cavendish, Cardinal Wolsey's gentleman usher, referred to Jane as "a wydowe in blake full woo begon" in his verses.
Fox, Julia (2009) Jane Boleyn: The Infamous Lady Rochford, W&N.