Posted By Claire on November 9, 2017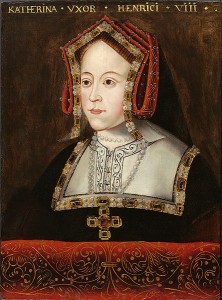 On 9th November 1518, the sixth pregnancy of Queen Catherine of Aragon, Henry VIII's first wife, ended tragically at Greenwich Palace. On 10th November 1518, Sebastian Giustinian, the Venetian ambassador, reported back to the Signory:
"In the past night the Queen had been delivered of a daughter, to the vexation of everybody. Never had the kingdom so anxiously desired anything as it did a prince."1
In the Sanuto Diaries, a diary kept by Marino Sanuto) in Venice, is the following record:
"The Queen bad been delivered in her eighth month of a stillborn daughter, to the great sorrow of the nation at large."2
The font that had been brought to Greenwich from Canterbury Cathedral to christen the expected prince was sent back and the ermine trimmed purple tissue which had been used to cover the queen's bed during her confinement was taken from the palace to Baynard's Castle, the queen's London residence.3
Catherine must have been devastated but she didn't give up hope of providing her husband with a living son. Historian Julia Fox writes of how "she went on pilgrimages, she attended Mass after Mass, and she prayed for hour upon hour", but it was not meant to be, Catherine never got pregnant again.4
See The Pregnancies of Anne Boleyn and Catherine of Aragon for more on Catherine's pregnancies.
Notes and Sources
Calendar of State Papers Relating to English Affairs in the Archives of Venice, Volume 2: 1509-1519, 1103.
Ibid., 1123 (Sanuto Diaries, v. xxvi. p. 235.)
Julia Fox mentions the king paying £4 for the font to be taken back to Canterbury and the record of this is found in the December section of "The King's Book of Payments, 1518" ('The King's Book of Payments, 1518', in Letters and Papers, Foreign and Domestic, Henry VIII, Volume 2, 1515-1518): "Prior of Christchurch, Canterbury, carrying and recarrying the font to Canterbury, 4l." This same font was used for the christening of Princess Mary in 1516 and borrowed when Henry, Duke of Cornwall, was born in 1511.
Fox Julia (2011) Sister Queens: Katherine of Aragon and Juana Queen of Castile