Posted By Claire on May 26, 2017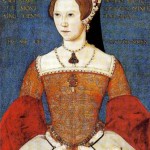 On this day in history, Friday 26th May 1536, exactly a week after the execution of Queen Anne Boleyn, her stepmother, Henry VIII's eldest daughter, the Lady Mary, wrote to Thomas Cromwell. Mary wanted Cromwell, the king's right-hand man, to intercede with her father on her behalf and she wanted permission to write to the king.
Mary was hoping that her relationship with her father could be mended now that her stepmother was out of the way, as she held Anne Boleyn responsible for her ill-treatment. She was wrong.