Posted By Claire on May 26, 2015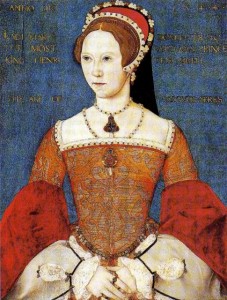 On 26th May 1536, one week after her stepmother's execution, Henry VIII's daughter Mary wrote to Thomas Cromwell asking him to intercede with her father on her behalf. It appears that Mary held Anne Boleyn responsible for her ill-treatment and the breach in her relationship with her father, and is hopeful that Cromwell can help her to mend their relationship now that Anne is gone.
The letter is damaged, but here are the parts we can read:
"Master Secretary, I would have been a suitor to you before this time to have been a mean for me to the King's Grace to have obtained his Grace's blessing and favor; but I perceived that nobody durst speak for me as long as that woman lived, which is now gone; whom I pray our Lord of His great mercy to forgive." Is now the bolder to write, desiring him for the love of God to be a suitor for her to the King, to have his blessing and leave to write to his Grace. Apologises for her evil writing; "for I have not done so much this two year and more, nor could not have found the means to do it at this time but by my lady Kingston's being here. Hunsdon, 26 May."1
Anne Boleyn encouraged the ill-treatment of Mary, and it was something she later regretted. On the evening before her execution, Anne fell on her knees before Lady Kingston and "requested her to go in her name to the Lady Mary, to kneel before her in like manner, and beg of her to pardon an unfortunate woman the many wrongs she had done her."2 But although Anne encouraged Mary's ill-treatment, it was Henry VIII who was responsible for it. Mary and her mother, Catherine of Aragon, had to be punished for defying him.
Mary's treatment actually got worse after Anne's death and it was all down to Henry.3 Henry was willing to acknowledge Mary as his daughter and to mend their relationship if she toed the line, it was that simple.4 As Eric Ives points out, blaming Anne for Mary's ill-treatment "made it much easier for Charles V [Catherine of Aragon's nephew] to keep up some civil relationship with Henry"5 so Chapuys could paint Anne as the bad guy. It was also easier for Mary to blame her step-mother for the way she was being treated, rather than believe it was down to her father and King.
Notes and Sources
Letters and Papers, Foreign and Domestic, Henry VIII, Volume X. 968.
Lingard, John (1820) The History of England, from the First Invasion By the Romans to the Accession of Mary, Volume IV, p244; Cassell, Peter (1873) Cassell's Illustrated History of England: Volume 2, p6.; Speed, John (1611) The History of Great Britain.
"As to the legitimation of our daughter Mary, we answered that if she will submit to our grace without wrestling against the determination of our laws, we will acknowledge her and use her as our daughter; but we would not be directed or pressed herein, nor have any other order devised for her entertainment than should proceed from the inclination of our own heart."LP x.726
Ives, Eric (2004) The Life and Death of Anne Boleyn, p197.