30 May 1536 – Henry VIII marries his third wife, Jane Seymour
Posted By Claire on May 30, 2017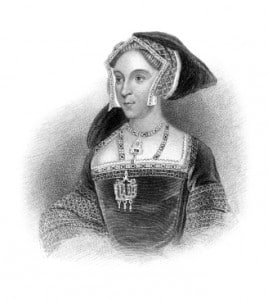 On this day in history, 30th May 1536, just eleven days after the execution of his second wife, Anne Boleyn, Henry VIII married for the third time.
In the Queen's Closet at Whitehall Palace, formerly known as York Place, the king married Jane Seymour, daughter of Sir John Seymour of Wulfhall, Wiltshire, and a woman who had served Queen Anne Boleyn as lady-in-waiting. The couple married in secret, so as not to cause a scandal, but Jane appeared in public at the king's side, as queen, just two days later and was proclaimed queen on 4th June.
Here's my latest 60-second history video. It's on Jane Seymour:
Also on this day in history, three years earlier on 30th May 1533, eighteen Knights of the Bath were created as part of the celebrations for Queen Anne Boleyn's coronation – click here.