The Boleyns: A Scandalous Family – Find out more about the Boleyns
Posted By Claire on August 18, 2021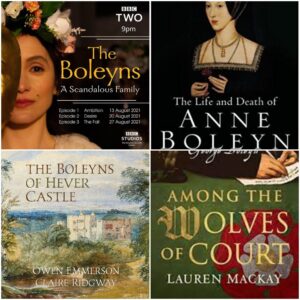 Episode 1 of BBC Two's new three-part series on the Boleyn family – The Boleyns: A Scandalous Family – aired on Friday 13th August, and episodes 2 and 3 have already been released on BBC iPlayer. It is a wonderful series and well worth watching because it introduces a very different Boleyn family.
Gone are the Boleyns of myth, and in their place are the Boleyns of history. It's very refreshing to see a series willing to put these long-held beliefs to one side and talk to historians who are dedicated to peeling back the layers and getting to the truth about these historical characters.
The series is only three episodes long and I'm sure it will leave viewers wanting to know more about the Boleyns, so I thought I'd write a list of resources on Anne Boleyn and her family. These are just a few resources, I could go on for ever and apologies to those I've missed!
Here you go!
Books
These are my top picks and this list certainly isn't exhaustive.
Podcasts
Patreon
The Anne Boleyn Files
This blog has many thousands of articles about Anne Boleyn and her family, and you can find out about different members of her family by using the "Categories" tab in the side menu.
There is also the Anne Boleyn Files and Tudor Society YouTube Channel which has the following playlists, as well as lots of other Tudor history videos:
Other Anne Boleyn blogs include https://onthetudortrail.com/Blog/, https://throughtheeyesofanneboleyn.wordpress.com/, https://queenanneboleyn.com/, and https://anneboleynreflections.wordpress.com/.
There are lots and lots of Anne Boleyn-related Facebook groups and pages too, and the same with Twitter and Instagram – far too many to list here – so do have a browse.
If you run an Anne Boleyn or Boleyn-related blog, podcast, social media page etc. then please do feel free to share it in the comments below.