#WednesdayFact – Anne Boleyn could have lived in Ireland
Posted By Claire on July 5, 2023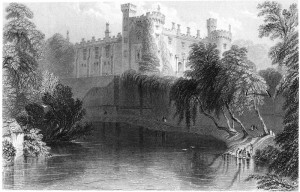 Anne Boleyn was Henry VIII's queen consort from 1533 to her execution in 1536, but did you know that Anne Boleyn could have ended up being an Irish countess and living in Ireland instead?
Yes, before Anne Boleyn became involved with Henry VIII, there were negotiations for her to marry her relative, James Butler, son of Sir Piers Butler. In fact, Anne had been recalled from France in late 1521 because of these marriage negotiations.
There had been arguments between the Boleyns and Sir Piers Butler over the earldom of Ormond, and someone came up with the idea of a marriage match. A union between Anne and James would mean that the earldom of Ormond would pass to James and Anne on Piers' death and therefore be in both the Boleyn and Butler family. However, this would mean that Thomas Boleyn would not inherit the title.
It's not clear who came up with the marriage idea, but Henry VIII, Cardinal Thomas Wolsey and Thomas Howard, 3rd Duke of Norfolk (Anne's maternal uncle) were involved in the negotiations.
The negotiations fizzled out at some point in the 1520s, perhaps because Thomas Boleyn wasn't happy with the idea of being passed over, and a deal brokered in 1528 saw Thomas being made earl, while Piers received fourteen of the Ormond manors on a thirty year lease and was elevated to the peerage as Earl of Ossory. Thomas Boleyn became Earl of Ormond in December 1529.
The fall of the Boleyns, however, in 1536 led to Piers being able to style himself Earl of Ormond in Ireland. His son, James, inherited the title on Piers' death in 1539.
If Anne had married James Butler, she would probably have settled in Ireland and would have become Countess of Ormond in 1539. The Butler seat was the 13th century Kilkenny Castle, so that would have become her home, I expect. What a different life she would have led!
You can find out more about the Boleyn/Butler connection in these articles: