#PortraitTuesday – An 18th century engraving of Anne Boleyn
Posted By Claire on July 11, 2023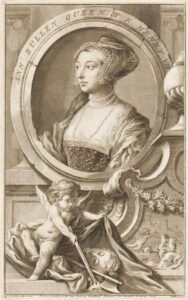 This week's #PortraitTuesday treat is an engraving of Anne Boleyn by Jacobus Houbraken (1698-1780), which appeared in the book "The Heads of Illustrious Persons of Great Britain (1743-52)" by Thomas Birch.
Houbraken depicts Anne dressed in an English gable hood decorated with pearls and a French gown. She is wearing pearls around her neck. It is very similar to the portrait of Anne that usually hangs in Hever Castle's inner hall, and which was "after Holbein".
Below Houbraken's portrait of Anne Boleyn, engraver Hubert-François Gravelot has added a scene of an allegorical figure in mourning on the right, and on the left is a cherub holding a torch to illuminate an axe and severed head. Perhaps a sword would have been more appropriate. Around the oval border of Anne Boleyn's portrait are the words "ANN BULLEN QUEEN OF K. HENRY VIII".
When I visited Hever Castle a few years ago, I saw a copy of this engraving on the wall of Anne Boleyn's bedroom.