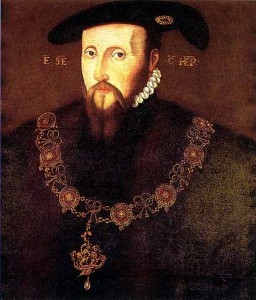 Just a few "On this day in history" events to let you know about:-
1528 – Henry VIII and Francis I declared war on Charles V
22 January 1552 – Execution of Edward Seymour – Edward Seymour, Duke of Somerset, had been Edward VI's Lord Protector
1554 – Thomas Wyatt the Younger met with fellow conspirators at his home of Allington Castle in Kent to make final plans for their uprising against Mary I and her decision to marry Philip of Spain. See Wyatt's Rebellion 1554
1561 – Birth of Francis Bacon, Viscount St Alban, the Elizabethan Lord Chancellor, politician, philosopher, author and scientist at York House in the Strand, London. Bacon is known as "the Father of the Scientific method" and developed an investigative method, the Baconian method, which he put forward in his book "Novum Organum" in 1620. Some people (Baconians) believe that Francis Bacon was the true author of William Shakespeare's plays.