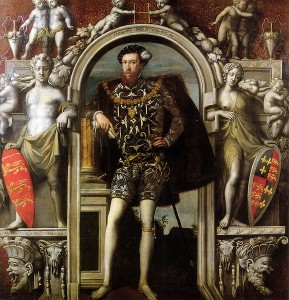 On this day in history, the 19th January 1547, the poet, courtier and soldier Henry Howard, Earl of Surrey and son of Thomas Howard, 3rd Duke of Norfolk, was executed by beheading on Tower Hill. He was laid to rest at All Hallows-by-the-Tower (All Hallows Barking) but was moved in 1614 by his son Henry, Earl of Northampton, to a beautiful tomb in the family church, St Michael's at Framlingham.
He had been found guilty of treason on the 13th January 1547 at a common inquest at Guildhall, where evidence was given "which concerned overt conspiracy as well as the usurpation of the royal arms"1. It was alleged that "he had on 7 October 1546 at Kenninghall displayed in his own heraldry the royal arms and insignia, with three labels silver, thereby threatening the king's title to the throne and the prince's inheritance"2, yet when he had been arrested in December the questions had focused on "his determination for the rule of the prince; his procuring his sister to be the royal mistress; his slandering of the royal council; and his plans to flee the realm"3, not his use of the royal arms and insignia. His trial lasted a day and he gave a spirited defence but it was no good, he was found guilty and sentenced to death.
Historian Susan Brigden writes of how Surrey spent his last days in the Tower writing, paraphrasing Psalms 55, 73 and 88, "the prayers of the psalmist abandoned and betrayed, thinking upon death and judgment"4. His work showed not only his sense of betrayal but also his evangelical religious beliefs.
He was executed on Tower Hill on the 19th January 1547 but his father, the Duke of Norfolk, who had also been setenced to death for treason, escaped execution because Henry VIII died before his scheduled execution. Norfolk was released and pardoned by Mary I in 1553 and died naturally on 25th August 1554.
Susan Brigden writes of how Surrey was "the first poet in English to explore what might be said without rhyme" and he is viewed as one of the founders of English Renaissance poetry and "Father of the English Sonnet", along with Thomas Wyatt and, I believe, George Boleyn. You can find Surrey's poetry and also his paraphrases of Psalms 55 and 88 at Luminarium: Anthology of English Literature5. I'll leave you with one if his poems:-
Set me whereas the sun doth parch the green…
Set me whereas the sun doth parch the green
Or where his beams do not dissolve the ice,
In temperate heat where he is felt and seen;
In presence prest of people, mad or wise;
Set me in high or yet in low degree,
In longest night or in the shortest day,
In clearest sky or where clouds thickest be,
In lusty youth or when my hairs are gray.
Set me in heaven, in earth, or else in hell;
In hill, or dale, or in the foaming flood;
Thrall or at large, alive whereso I dwell,
Sick or in health, in evil fame or good:
Hers will I be, and only with this thought
Content myself although my chance be nought.
Notes and Sources
Susan Brigden, 'Howard, Henry, earl of Surrey (1516/17–1547)', Oxford Dictionary of National Biography, Oxford University Press, 2004
Ibid.
Ibid.
Ibid.