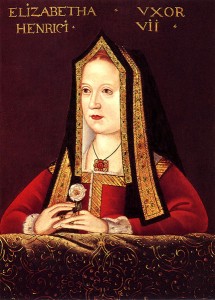 On the 18th January 1486 Henry VII married Elizabeth of York, uniting the Houses of Lancaster and York and establishing a new royal house: The House of Tudor.
Henry Tudor had become King on the 22nd August 1485 when he defeated Richard III at the Battle of Bosworth. He was crowned King on the 30th October and on the 7th November the English parliament asserted the legitimacy of his claim to the throne and overturned that of Richard III, who had claimed that Edward IV's children were illegitimate on the grounds that Edward had been pre-contracted to Eleanor Talbot before his marriage to Elizabeth Woodville. By overturning Richard's claim, parliament made Elizabeth of York, Edward's daughter, legitimate again.
On the 10th December, the House of Commons petitioned Henry VII to marry Elizabeth of York through their speaker Thomas Lovell, who declared: "Which marriage, they hoped God would bless with a progeny of the race of kings, to the great satisfaction of the whole realm"1. The Lords agreed with the Commons and it was clear that "for all Henry's efforts to establish himself on the throne before his marriage, popular feeling still regarded marriage to Elizabeth as a crucial element in his title"2 .
The marriage was authorized by a papal legate on the 16th January and two days later the marriage of Henry VII and Elizabeth of York took place.
You can read more about the bride and groom in my article "Henry VII Marries Elizabeth of York".
Notes and Sources
Henry: Virtuous Prince, David Starkey, p38
Rosemary Horrox, 'Elizabeth (1466–1503)', Oxford Dictionary of National Biography, Oxford University Press, 2004