Posted By Claire on January 15, 2012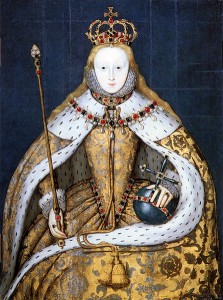 On this day in history, 15th January 1559, Queen Elizabeth I was crowned queen at Westminster Abbey by Owen Oglethorpe, Bishop of Carlisle. It was a triumphant moment for the 25 year old woman who had spent part of her half-sister's reign imprisoned or under house arrest and who was the daughter of Anne Boleyn, the queen Elizabeth's father had executed for adultery and treason.
Far from distancing herself from her mother's memory on that defining day, Elizabeth incorporated many elements from Anne Boleyn's lavish 1533 coronation and you can read about that in my article "The Tale of Two Coronations".
You can find out all about Elizabeth I's coronation in my article over at the Elizabeth Files, see "The Coronation of Elizabeth I – 15th January 1559"
Also on this day in history…
1535 – King Henry VIII proclaimed that he was now Supreme Head of the Church of England: "Memorandum that the King in his privy chamber, 15 January 26 Hen. VIII., in presence of Sir Thos. Audley, lord Chancellor, Thos. duke of Norfolk, treasurer of England, Thos. earl of Wiltshire, keeper of the Privy Seal, Thos. Crumwell, chief secretary, and others, ordained that his style should henceforth be "Henricus Octavus, Dei gratia Angliæ et Franciæ Rex, Fidei Defensor et Dominus Hiberniæ, et in Terra Supremum Caput Anglicanæ Ecclesiæ."" LP viii.52