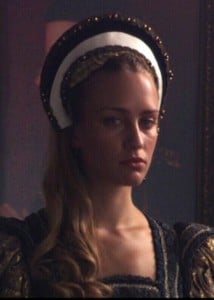 Following on from my article regarding The Daily Mail's article on Henry VIII being the father of Bessie Blount's daughter, Elizabeth Tailboys, I just wanted to let you know that Elizabeth Norton will be writing a guest article for us on this issue and she has pointed out that the salacious angle of the newspaper's article was not her choice. Still, the newspaper headline did its job didn't it? It piqued our interest!
Here is some further information from Elizabeth Norton, which she posted on The Anne Boleyn Files Facebook page yesterday:-
"The evidence for Elizabeth Tailboys being Henry's daughter is very strong – read my book! One thing I would point out is that, legally, Mary and Elizabeth I were only heirs to the throne due to their inclusion in the third Act of Succession. They always remained legally illegitimate (at least until Mary legitimised herself when she came to the throne). Henry never recognised his first two marriages and it is highly likely that, if Henry Fitzroy had survived, he would have been inserted into the succession in the third Act of Succession behind Edward (but ahead of Mary and Elizabeth) – so who knows what would have happened with Elizabeth Tailboys…"
When I asked Elizabeth about the date of Elizabeth Blount's marriage to Gilbert Tailboys, which, depending on which book you read, is dated anywhere from late 1519 to 1523, Elizabeth replied:-
"For the marriage, there is nothing at all to suggest that Gilbert and Bessie were married before early 1522. Given that Gilbert was marrying the king's cast-off mistress it would be odd if he did not receive any rewards from the king at the time of the marriage – she was beneath him socially . In early 1522, when Bessie is first recorded as Gilbert's wife, there are a high number of grants to him and to Bessie. We also know Elizabeth Tailboys' age quite precisely – she was conceived in the summer of 1519, within a few months of Henry Fitzroy's birth and when Henry VIII was spending time in Essex, close to Bessie. There is other evidence both from royal sources and Tailboys family sources."
When I did some preliminary digging yesterday, and it wasn't in depth, I found mention of a grant to Gilbert and Elizabeth in June 1522:-
"Sir Gilbert Talboys and Elizabeth his wife. Grant, in tail, of the manor and town of Rokeby, Warw., forfeited by Buckingham. Del. Windsor, 18 June 14 Hen. VIII." LP iii. 2356
So they were certainly married by June 1522, making a 1523 wedding date inaccurate.
Although I can see Elizabeth Norton's point about Mary and Elizabeth being made illegitimate, they were still born legitimate to wives of Henry VIII and crowned queens of England, not to a royal mistress. Henry VIII had recognised them as legitimate at their births and also added them back into the line of succession before his death, so acknowledged them as his daughters. Elizabeth Tailboys, if she was Henry VIII's daughter (and it sounds like Norton has some compelling evidence for this), was a royal bastard and whether Henry VIII helped her or not he did not acknowledge her as his daughter or as a potential heir to the throne. I just cannot see that she had any claim to the throne. Just my opinion!
You can read a bit more about Elizabeth Tailboys in yesterday's article, which also has more details on Elizabeth Norton's book. See Was Henry VIII the Father of Bessie Blount's Daughter?
By the way, other children have been linked to Henry VIII too – see Elizabeth I's Early Life – Illegitimate Siblings