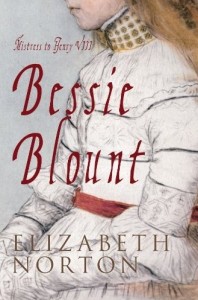 Thanks to Eilish Gallagher for letting me know about The Daily Mail article Henry VIII had a secret daughter who should have taken the throne before Elizabeth I, historian claims.
This article is about historian Elizabeth Norton's research into the life of Elizabeth Blount for her new book "Bessie Blount: Mistress to Henry VIII" and her claim that Blount's daughter, Elizabeth Tailboys, was actually Henry VIII's illegitimate daughter and not Blount's daughter by Gilbert Tailboys. Norton has found that Elizabeth was born between April and June 1520, two years before Blount's marriage to Tailboys* and during the period when Henry VIII "was known to visit her regularly".
Blount had given birth to the King's acknowledged son in June 1519, around a year earlier than Elizabeth's birth, and Norton feels that "If Henry had acknowledged her, it could have changed the whole course of British history" because her birthdate made her younger than Mary I but older than Elizabeth I. Norton says in the article:-
"As far as we know, she was conceived about three years before she met her husband Gilbert Tailboys, who would later give her his surname. At that time, Henry was staying in the same area as Bessie, within ten miles of her for the whole summer. Put simply, we know he was sleeping with her mother. In addition to the conception dates, there is also legal evidence that Henry took a personal interest in Bessie and Elizabeth's affairs. It would have been very odd for a King to take such an interest in a girl with a relatively minor title otherwise."
Whatever the truth of the matter, I think the headline is somewhat misleading. Elizabeth Tailboys was not acknowledged by Henry as his daughter, she was not the daughter of one of his wives and she was not named in the succession; at best she was simply a royal bastard and had no claim. Interesting though and I will definitely be reading Elizabeth Norton's book to find out more about her research.
I did a little digging into Elizabeth Tailboys. She was the heir of Gilbert Tailboys, due to his sons dying in childhood, and she married first Thomas Wimbush and then, after his death, she went on to marry Ambrose Dudley, son of John Dudley, Duke of Northumberland, and brother of Robert Dudley, Earl of Leicester. Elizabeth was his second wife. When Ambrose was found guilty of treason and attainted for his part in his family putting Lady Jane Grey on the throne in July 1553, it was Elizabeth who may well have saved him by commissioning Roger Ascham to write an appeal to Philip of Spain in November 1554. He was out of prison by December of that year. The couple were childless and Elizabeth suffered a false pregnancy in 1555. She died in early 1563 and Ambrose went on to marry his third wife, Anne Russell.
Interestingly, Alison Weir has just claimed in her book on Mary Boleyn that Ethelreda Malte was probably the King's daughter, and Philippa Jones discusses various possible illegitimate children in her book "The Other Tudors: Henry VIII's Mistresses and Bastards". See my article Elizabeth I's Early Life – Illegitimate Siblings for more on this.
Elizabeth Norton's book "Bessie Blount: Mistress to Henry VIII" was released in the UK in November by Amberley- click here to order – and is due out in the USA in March, although Amazon UK ship worldwide, as do The Book Depository so everyone should be able to get their hands on a copy.
*I had always thought that Elizabeth Blount was married to Gilbert Tailboys by late 1519 but must do some digging!