The Birth of Margaret of Austria – 10 January 1480
Posted By Claire on January 10, 2012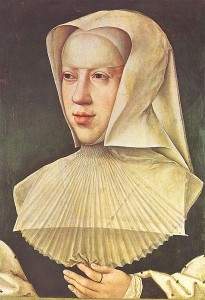 On this day in history, 10th January 1480, Margaret of Austria (Princess of Asturias and Duchess of Savoy) was born to her parents Maximilian of Austria and Mary of Burgundy. Margaret was their second child and was named after her maternal stepgrandmother, Margaret of York, Duchess of Burgundy and third wife of Charles the Bold (Duke of Burgundy).
When she was just two years old, Margaret was promised in marriage to Louis XI's son, Charles the Dauphin, and so was sent to France to be educated and prepared for her role as Queen Consort. However, Charles ended up marrying Anne of Brittany and Margaret married John, Prince of Asturias, the only son of Isabella I of Castile and Ferdinand II of Aragon and brother of Catherine of Aragon, in 1497. Margaret quickly became pregnant but sadly John died six months into the marriage and Margaret suffered a stillbirth two months after his death. Margaret married again in 1501 but her husband, Philibert II, Duke of Savoy, died three years into the marriage causing Margaret to vow that she would never marry again and that she would spend the rest of her life in mourning.
Margaret's father, Maximilian, appointed her as Governor of the Habsburg Netherlands in 1507 as regent for her nephew, Charles, the man we know as the future Charles V, Holy Roman Emperor. When Charles came of age in 1515 he took her title away from her but then settled it on her again in 1519. Acting as Governor of the Netherlands made Margaret an immensely powerful woman, in fact, the most powerful woman in Europe and her court at the Palace of Mechelen became famous for its culture, its courtly love tradition, its education, its vast library and Margaret's collections of paintings, illuminated manuscripts and music books. This was the court that the young Anne Boleyn stayed at between 1513 and 1514 – what an oppportunity for a young woman and what an influence it must have had on her.
You can read more about Margaret of Austria, Anne Boleyn's time at her court and her influence on Anne in my article The Early Life of Anne Boleyn Part Two – The Court of Margaret of Austria. You may also be interested in reading about the courtly love tradition that Margaret's court was famed for and that Anne Boleyn learned there, see Courtly love, Flirtation and the Fall of Anne Boleyn – Part One
Margaret of Austria died at her home of Mechelen on the 1st December 1530 and was laid to rest with her second husband in their mausoleum at Bourg-en-Bresse. Her nephew, Charles V, was chosen as her heir. Photos of her amazing tomb can be found at http://amorbidfascination.blogspot.com/2008/03/tomb-of-margaret-of-austria-brou-bourg.html