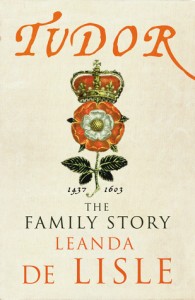 Author and historian Leanda de Lisle has kindly offered to do a Q&A session here at The Anne Boleyn Files, so this is your chance to ask her a question. Leanda has written three Tudor history books and her latest book, Tudor: The Family Story (US title: Tudor: Passion. Manipulation. Murder. The Story of England's Most Notorious Royal Family) has chapters on the fall and execution of Anne Boleyn. In her book, Leanda shares her theory on why Anne Boleyn was executed by a French swordsman and not the usual axeman, and she also discusses this in an article she wrote for The Spectator:
"As Henry's sexual inadequacies were paraded during the trials, he responded by advertising his virility, staying out all hours, banqueting with beautiful girls, seemingly full of 'extravagant joy'. In private, however, he comforted himself in a different way, obsessing over the details of Anne's coming death. In Thomas Mallory's Death of Arthur, the King sentenced Guinevere to death by burning, (although it was never carried out). Henry decided Anne would be beheaded with a sword – the symbol of Camelot, of a rightful King, and of masculinity. Historians argue over whether Anne was really guilty of adultery, and if Henry or Cromwell was the more responsible for her destruction. But the choice of a sword to kill Anne reflects one certain fact: Henry's overweening vanity and self-righteousness."
It is an interesting theory and one that fits with Henry's behaviour at the time, I like it, it makes sense. You can read the full article, "Anne Boleyn's Last Secret", on Leanda's website – http://www.leandadelisle.com/articles/.
Now it's time for you to ask Leanda a question. Feel free to ask questions about:
Leanda's theory
Her book on the Tudors
Anne Boleyn, Henry VIII, the Tudors…
Leanda's books on James I and the Grey sisters
Leanda's work and research
Simply ask your question as a comment below before midnight Sunday (US Eastern time). I will then send the questions to Leanda and she will answer as many as she is able to in a blog post here on The Anne Boleyn Files on Wednesday 28th August.
Tudor: The Family Story will be released in hardback in the UK on 29th August – click here to pre-order – and on 8th October in the US – click here. I received a review copy and am reading it at the moment, it's brilliant.