Posted By Claire on July 6, 2015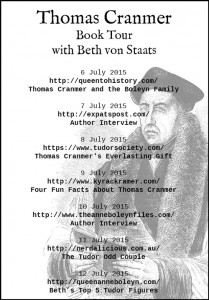 Beth von Staats kicks off her book tour for Thomas Cranmer: In a Nutshell over at Sarah Bryson's blog Anne Boleyn: From Queen to History with a wonderful article on Thomas Cranmer and the Boleyn family. Do head over there to enjoy the article and to enter the giveaway to be in with a chance of winning a paperback copy of Beth's book – click here.
Here is the schedule for Beth's book tour – do follow her around! There will be a giveaway at each stop.