The Tudors Courtly Wedding Collection – 10th May to 30th May at Portsmouth Cathedral
Posted By Claire on April 28, 2011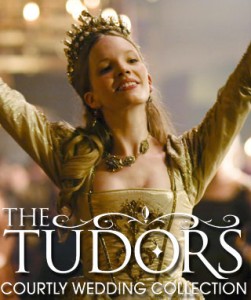 I've just had the following press release from The Mary Rose Appeal regarding a special "The Tudors – Courtly Wedding Collection" exhibition which is to take place in May at Portsmouth Cathedral in the UK. Here are the details:-
The Tudors – Courtly Wedding Collection
Tuesday 10th May – Monday 30th May
At Portsmouth Cathedral
Royal wedding gowns from the hit TV series The Tudors will form the centrepiece of a stunning costume exhibition as part of the Mary Rose Museum's Courtly Couture Collection hosted by Portsmouth Cathedral in May.
Following on from the success of the Tudor's Exhibition at the Mary Rose Museum, Joan Bergin, the Emmy award winning designer has lent wedding costumes as worn by Jonathan Rhys-Meyers as Henry VIII and Tamzin Merchant as Katherine Howard to celebrate the "other Royal wedding". Joan has also designed a wedding headdress exclusively for this exhibition at Portsmouth Cathedral.
The costumes will go on display at Portsmouth Cathedral from Tuesday 10th May to Monday 30th May. Admission is free and it is hoped that the public will generously donate to both the Mary Rose and Portsmouth Cathedral Appeals.
In addition to the wedding gowns, visitors will be able to view the costumes as worn by Jonathan Rhys Meyers as King Henry VIII, Joss Stone as Anne of Cleves, Natalie Dormer as Anne Boleyn, Annabelle Wallis as Jane Seymour and the young Elizabeth costume.
Appeals Fundraiser Fiona Harvey: "We are delighted that Portsmouth Cathedral will be able to showcase the only opportunity the public will get to see these wonderful wedding gowns Joan has lent us. Once we close the exhibition in May they will not be seen again. The exhibition will be especially poignant as Portsmouth Cathedral has allowed us to display the costumes around the grave of the Mary Rose crew member, who is remembered each year in a memorial service in July."
The exhibition will be open from 10am – 4pm on most days, but is advisable to check before visiting at www.maryrose500.org, the MaryRose500 Facebook or Twitter feed, or by calling Fiona Harvey, Appeals fundraiser 023 92 750 521 ext 228.
The Tudors – Courtly Wedding Collection
Tuesday 10th – Monday 30th May 2011 at Portsmouth Cathedral High Street Old Portsmouth
Free admission – donations welcome to Mary Rose 500 Appeal and Portsmouth Cathedral
10am – 4pm on most days, but is advisable to check before visiting at www.maryrose500.org, the MaryRose500 Facebook or Twitter feed
Private Viewing – Portsmouth Cathedral
Monday 9th May – 7.30pm at Portsmouth Cathedral
Tickets £5 Licensed Bar Contact Rosemary Fairfax Tel: 023 92892 968 www.portsmouthcathedral.org.uk