The Tudors Costumes
Posted By Claire on March 31, 2011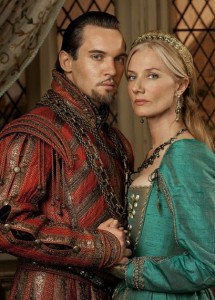 In an article entitled "Henry VIII: Dressed to Kill" in the fashion section of today's Telegraph newspaper, Joan Bergin, costumer designer for "The Tudors" TV series, discusses how she "looked to Holbein, Degas and the Rolling Stones to create more than 2,000 lavish outfits for the hit series", as well as studying the reports of the Imperial ambassador, Eustace Chapuys, and other contemporary sources.
The article is an interesting read as Ms Bergin explains her inspirations, the hand detailing on the costumes and other such insights.
The show's costumes have been criticised by re-enactors, historians and Tudor costuming experts, but there's no denying that the costumes were beautiful and exuded sex-appeal and opulence.