The Temptation of Elizabeth Tudor by Elizabeth Norton
Posted By Book Reviewer on August 21, 2023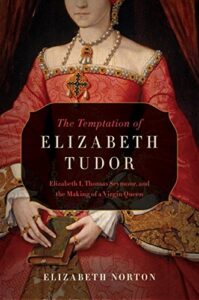 Historian Elizabeth Norton's latest book focuses on the years 1547-1549 when the teenage Elizabeth, the future Elizabeth I and the daughter of Henry VIII and Anne Boleyn, becomes embroiled in a scandal regarding Thomas Seymour, the new husband of Elizabeth's stepmother Dowager Queen Catherine Parr.
While the book's cover and title focus on Elizabeth, The Temptation of Elizabeth Tudor is actually broader than that and gives a very detailed account of the Seymours' rise to power, Henry VIII's death and Edward Seymour's protectorship, and Thomas Seymour's rise and subsequent fall. It serves as an excellent biography of Thomas Seymour, allowing the reader to gain insight into what drove this man to do what he did. The book also offers an explanation into how and why Catherine Parr allowed her husband to have such an inappropriate relationship with her step-daughter. We'll never know for sure what went on and how everyone felt about it, but Elizabeth Norton offers some convincing arguments. She also explores the rumours regarding Elizabeth being pregnant in 1548.
The Temptation of Elizabeth Tudor brings a whole host of Tudor personalities to life, for example, the Seymour brothers, Edward VI, Elizabeth, Catherine Parr, Kate Ashley and Thomas Parry, and it is fully referenced with full citations in the notes at the end and also useful footnotes. Although it's a non-fiction book, I really enjoyed the narrative and almost felt that I was reading a novel at times. It really was compelling reading and I congratulate Elizabeth Norton on this book. The prologue is beautifully written, setting the stage for the rest of the book and ending with the words "The Virgin Queen was born out of the ashes of his fall", which really make you hungry to read more! I think I've read all of her books, but this stands out to me as the best yet and it is certainly a book I will go back to as I do my own research on the Seymours. A brilliant book.
Available in the US on Kindle and to pre-order as a hardback – click here, and as a hardback and kindle in the UK – click here.
Blurb:
England, late 1547. Henry VIII is dead. His 14-year-old daughter Elizabeth is living with the old king's widow Catherine Parr and her new husband Thomas Seymour. Ambitious, charming and dangerous, Seymour begins an overt flirtation with Elizabeth that ends in her being sent away by Catherine.
When Catherine dies in autumn 1548 and Seymour is arrested for treason soon after, the scandal explodes into the open. Alone and in dreadful danger, Elizabeth is closely questioned by the king's regency council: Was she still a virgin? Was there a child? Had she promised to marry Seymour? In her replies, she shows the shrewdness and spirit she would later be famous for. She survives the scandal. Thomas Seymour is not so lucky.
The Seymour Scandal led to the creation of the Virgin Queen. On hearing of Seymour's beheading, Elizabeth observed 'This day died a man of much wit, and very little judgement'. His fate remained with her. She would never allow her heart to rule her head again.
Hardcover: 416 pages
Publisher: Head of Zeus (5 Nov. 2015)
Language: English
ISBN-10: 1784081728
ISBN-13: 978-1784081720
B0BPCKRWC2 (This is my affiliate link for Amazon.com and I may receive a small payment if you buy the book through this link).
Originally posted on December 10, 2015.