The King is Dead: The Last Will and Testament of Henry VIII by Suzannah Lipscomb
Posted By Book Reviewer on August 22, 2023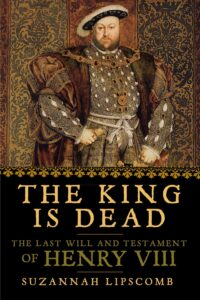 Before I begin my review of the content, let me start by saying that Suzannah Lipscomb's latest book The King is Dead: The Last Will and Testament of Henry VIII is stunning. It's a square-shaped hardback book with a beautifully illustrated cover. The cover image has embossing and the K and the D of the title are illuminated. It's just the kind of book that you want decorating your coffee table – gorgeous. It also features colour illustrations inside – very well produced.
But now to the content…
I've been looking forward to this book ever since I heard that Suzannah was working on it. I've done a fair bit of research in the past on Henry VIII's will and the changes he made to it in December 1546 and I knew that Suzannah's work was going to offer a new take on the topic. As Suzannah explains in her introduction, and then in more detail in the main book, some eminent historians have argued that Henry's final will "was the product of a conspiracy staged by an 'evangelical' or proto-Protestant faction at court seeking to advance reform", led by Edward Seymour and Sir William Paget, and that it did not reflect Henry VIII's real wishes. However, Suzannah puts forward a case for Henry VIII being in full control at this point and challenges the validity of the argument of those other historians and the evidence that they base it on. Step by step, she dismantles that argument while putting forward evidence for her view. It really is a fascinating analysis of those last few months.
As well as looking at the will itself, and the changes that were made, Suzannah covers the background to the will (the political/religious context etc.), Henry VIII's marriage to Catherine Parr and her near-fall, Henry VIII's final year – Wriothesley's moves against reformers and the fall of Surrey and Norfolk, they men who were in positions of power at the time, and those chosen to be executors and Edward VI's council (and why Stephen Gardiner was removed). One bit that really intrigued me because it's an event that I had never come across, or that just hadn't struck me before, was the story of George Blage. When Edward Seymour, Earl of Hertford, was out of the country, Thomas Wriothesley launched a "targeted campaign" against reformers, which, of course, included the interrogation, torture and execution of Anne Askew. In July 1546, Wriothesley also targeted courtier George Blage, a member of the king's Privy Chamber who was also a diplomat, soldier, evangelical, poet and a friend of Henry Howard, Earl of Surrey, and Thomas Wyatt. Blage was also a friend of the king, who referred to him as "my pig". Wriothesley seemed to think nothing of targeting Blage and arresting him for heresy, but, as Suzannah points out, this move "was an extraordinary miscalculation". Although Henry VIII was very much against heresy, Blage was his good friend and personal servant and Wriothesley had gone to far. The king was furious and ordered Wriothesley to issue a pardon. I found this event interesting because it shows that nobody could move against someone the king cared about without his blessing. As Suzannah comments, "The incident reveals the audacity of conservative machinations at court, but also, importantly, the limits on any attempt to force Henry to do anything." She goes on to say that this is one thing we need to take into account when considering the creation of his will.
I won't go into any more detail as I don't want to spoil your reading.
I found Suzannah's reasoning compelling. I haven't yet taken 'sides' as I want to re-read this book, along with the works of G.R. Elton, David Starkey and John Guy, as well as Eric Ives' work on "the protectorate provision, before I make my mind up. I love books like this because fresh takes on a subject always leave me hungry for more and always lead me on to more research, which I love. All in all, it's a fabulous book and anyone who is receiving it for Christmas will be delighted. I can't say enough good things about it really! Read it!
Blurb:
On 28 January 1547, the sickly and obese King Henry VIII died at Whitehall. Just hours before his passing, his last will and testament had been read, stamped and sealed. The will confirmed the line of succession as Edward, Mary and Elizabeth; and, following them, the Grey and Suffolk families. It also listed bequests to the king's most trusted councillors and servants.
Henry's will is one of the most intriguing and contested documents in British history. Historians have disagreed over its intended meaning, its authenticity and validity, and the circumstances of its creation. As well as examining the background to the drafting of the will and describing Henry's last days, Suzannah Lipscomb offers her own, illuminating interpretation of one of the most significant constitutional documents of the Tudor period.
Illustrated with portraits of key figures at Henry's court, including the executors named by Henry in his will, THE KING IS DEAD is a Tudor gift book to cherish, as authoritative as it is beautiful.
Hardcover: 256 pages
Publisher: Head of Zeus (5 Nov. 2015)
Language: English
ISBN-10: 1784081922
ISBN-13: 978-1784081928
B01E9EHVDG (This is my affiliate link for Amazon.com and I may receive a small payment if you buy the book through this link).
The King is Dead is available as a kindle book from Amazon.com (I'm not sure when the US hardback will be released) and as a kindle and hardback from Amazon UK.
Originally posted on December 18, 2015.