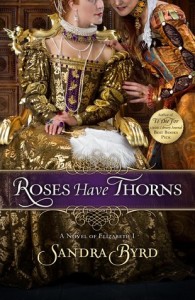 Today I welcome historical fiction author Sandra Byrd to The Anne Boleyn Files. Sandra has just released the third book in her Ladies in Waiting series, Roses Have Thorns: A Novel of Elizabeth I and to celebrate the book's launch she has written this special article for us and is giving away a copy of her book to one lucky person.
All you have to do, to be in with a chance of winning the book, is to leave a comment below sharing your thoughts on the Chequers ring by the end of Friday 19th April and a winner will be picked at random on Monday 22nd.
Over to Sandra…
She held the realm's finances in her grasp and the crown jewels round her neck or on her head, but there were only two pieces of jewelry that Queen Elizabeth I was reliably said to have never removed: her coronation ring, which she considered to be her "wedding" ring, and her ruby and pearl locket ring. This latter ring, shrouded in mystery, tells us as much about the queen's heart as does the former.
The ring is generally referred to as the Chequers ring because its permanent home is now at the British Prime Minister's country home, Chequers, and under the authority of its trustees. In 2008, Prime Minister Gordon Brown lent out several pieces of art from Chequers to the museum at country house Compton Verney. Kathleen Soriano, head of exhibitions at Compton Verney, said of the ring, "It's a very moving piece because it's so delicate and small and really evokes the sense of the story. It's a very powerful object."
Just what is that story evoked?
Most sources place the first appearance of the locket ring at 1575. Although some assert that the queen had it commissioned, there is no trail or definitive provenance for that claim. Traditionally, lockets are gifts. Inside might be a portrait of a lover or a child, or perhaps a lock of hair from someone who had passed on. The idea is to keep close to heart someone who is likely far removed by death or convention, politics, or sea. The idea, too, is to be able to shield or shroud the identity of the loved one by clasping and keeping the locket closed.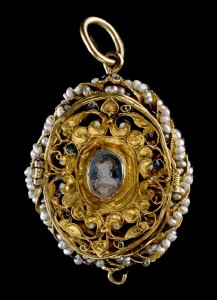 English locket jewelers Lily & Will tell us that, "When Elizabeth I wore a locket ring … it marked a new beginning for the locket. It started to rise in popularity as Elizabeth I gave gifts of jewel encrusted lockets to many of her favourite loyal subjects—Sir Francis Drake being one of them." The Scottish National Museum holds among its collection a locket with portraits of Mary, Queen of Scots and her son James, given to a trusted servant on the eve of her execution (see above).
Then who is to be found inside of the ring so cherished by Queen Elizabeth? Another royal, executed mother, and her beloved only child. When opened, the Chequers ring reveals two portraits which face one another. One is clearly Queen Elizabeth, seemingly in her early forties, neatly fitting with the year 1575. The second portrait is widely understood to be her mother, Queen Anne Boleyn.
Because there is no direct provenance, there has been speculation that the portrait could be of the young Queen Elizabeth herself, or even of Queen Kateryn Parr, Elizabeth's stepmother. It's unlikely that the queen would have worn two portraits of herself throughout her life and in any case, there would have been no need for those portraits to be kept hidden. Although Elizabeth bore tender affection for Parr, the portrait within does not clearly resemble Parr, nor does the French hood worn by the subject fit in with the French hoods known to have been worn by Parr. It does, however, perfectly match the French hoods Anne Boleyn was well known for.
The British Museum says of Anne Boleyn: "Of the mid-sixteenth century representations of her, the most reliable must be the tiny miniature set into a ring of about 1575 which belonged to her daughter, queen Elizabeth I (The Chequers Trust; see 'Elizabeth' exhibition catalogue edited by Susan Doran, London, The National Maritime Museum, 2003, no.7). This likeness comes from the same source as the painting in the National Portrait Gallery."
There is another miniature of Anne, which Charles I had copied by John Hoskins the elder in the 17th century, which is endorsed, "from an ancient original." What might this ancient original have been? Anne's principle biographer, historian Eric Ives, states that it is, "more likely that Hoskins had access to an earlier image of the kind from which the NPG image originated." Ives continues, "A full-length portrait of Anne was owned by Lord Lumley in 1590 and existed as late as 1773. Could it even be that Hoskins' source was or was derived from a Holbein painting now lost?" Perhaps there was one early portrait or sketch that Hoskins, the painter of the NPG portrait, and maybe even the painter of the locket miniature based their work upon.
Although Elizabeth likely could not remember what her mother looked like, there were those at her court old enough who would remember, and there were also those who still held quiet affections for and perhaps an illustration of Queen Anne. And just like that, the generosity of fiction allowed me to consider who might have loved and understood Elizabeth enough to risk giving her a ring with a portrait of her beloved, but taboo, mother inside.
Roses Have Thorns
Blurb from Amazon:
In 1565, seventeen-year-old Elin von Snakenborg leaves Sweden on a treacherous journey to England. Her fiance has fallen in love with her sister and her dowry money has been gambled away, but ahead of her lies an adventure that will take her to the dizzying heights of Tudor power. Transformed through marriage into Helena, the Marchioness of Northampton, she becomes the highest-ranking woman in Elizabeth's circle. But in a court that is surrounded by Catholic enemies who plot the queen's downfall, Helena is forced to choose between her unyielding monarch and the husband she's not sure she can trust–a choice that will provoke catastrophic consequences.
Vividly conjuring the years leading up to the beheading of Mary Queen of Scots, Roses Have Thorns is a brilliant exploration of treason, both to the realm and to the heart.
You can read my review of Sandra's book on our review site – click here. The novel is available to buy now at Amazon UK and Amazon.com, or your usual bookshop.