The Early Life of Anne Boleyn Part Two – The Court of Margaret of Austria
Posted By Claire on October 5, 2010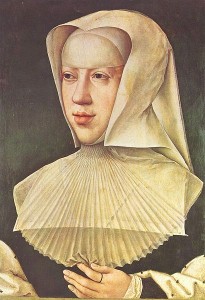 In May 1512 Thomas Boleyn was sent to the court of Margaret of Austria at Mechelen in the Low Countries as an ambassador. Although he had to return to England shortly after he had arrived, for further consultation with the King and council, he was back in Brussels by the end of June and it is thought that he stayed there until the following April or May.
It seems that the intelligent and ambitious Thomas Boleyn made an impression on Margaret. Retha Warnicke writes of how in August 1512 the two were on such good terms that Margaret playfully bet Thomas that her father, the emperor, would allow them to conclude their negotiations within ten days. If Thomas won the bet then Margaret would give him a "courser of Spain" and if Margaret won then Thomas would give her "a hobby". Warnicke points out that "as she had asked for a hobby from him, she surely had some personal knowledge of his family, for he was an heir general of the Irish earldom of Ormond and hobbies at this time were usually associated with that country."1
Thomas Boleyn was not just ambitious for himself, he was also ambitious for his children, and he recognised that Margaret's court, which Eric Ives describes as "the Mecca of aristocratic and princeley behaviour"2 was the ideal place to send his highly intelligent and precocious daughter, Anne, for he had plans for her to serve Margaret's sister-in-law, Catherine of Aragon and for that she would require good French and continental manners. Eric Ives also describes Margaret's court as "Europe's premier finishing school" and the cultural heart of Europe, a place where Anne Boleyn could finish her education with Margaret's Hapsburg nephews and nieces and the children of "the elite of Europe". If Margaret agreed to accept Anne, then Anne would be mixing with the future rulers of Europe in a true Renaissance Court, what an opportunity!
The Court of Margaret of Austria
Margaret of Austria was born in 1480 and was the daughter of Maximilian of Austria (Maximilian I, Holy Roman Emperor) and Mary of Burgundy. In 1482, when she was just two, her father made the Treaty of Arras with France and Margaret, his only daughter, was promised in marriage to the Dauphin, Louis XI's son Charles. To prepare her for being the Queen Consort of France, Margaret was sent to be educated in France. The marriage never took place, with Charles choosing to marry Anne of Brittany instead, and Margaret went on to marry John Prince of Asturias, the only son of Isabella I of Castile and Ferdinand II of Aragon, in 1497. John died after just six months of marriage and the pregnant Margaret gave birth to a stillborn daughter two months after his death. In 1501, Margaret married Philibert II, Duke of Savoy, but he died three years later. Margaret vowed never to marry again and spent the rest of her life in mourning, wearing black.
In 1507, Margaret's father appointed her as Governor of the Habsburg Netherlands, the regent for her six year old nephew, Charles, the future Charles V, Holy Roman Emperor. Although Charles did rebel against her when he came of age in 1515, and took her title of governor away for 4 years, he appointed her as governor again in 1519 when he realised what an asset she was. In this position, Margaret was one of the most powerful women in Europe.
Spending the formative years of her life in France had not only made Margaret fluent in the language but also very French in her ways. She was also highly educated and was accomplished at music and poetry. Belgian historian, Ghislain de Boom, described her palace at Mechelen (Malines in French) as "un école d'éducation princière et un centre de haute civilisation"3, "a princely school and a centre of high culture/advanced civilisation", and so it was. Her court was visited by the likes of Erasmus, and other well-known Humanists, and was known for its superb library which contained poetry, missals, historical work and work by authors such as Christine de Pizan, who was known for challenging mysogyny and the stereotypical views of women, as well as the works of Boccaccio, Aesop, Ovid,Boethius and Aristotle. Margaret was a patron of the arts and her court was also known for Margarets's collection of paintings by masters such as Jan van Eyck, her collection of illuminated manuscripts and her collection of music books. She surrounded herself with men of letters, poets and painters. Margaret also enjoyed the tradition of courtly love, which Eric Ives describes as "an integral element in chivalry, the complex of attitudes and institutions which was central to the life of the Tudor court and elite", "a defence against boredom and vice" and a way "to constrain gender relationships within an accepted convention"4.
Anne Arrives at the Habsburg Court
What better place to send your daughter to finish her education than the court of the most powerful and influential women of Europe, a court known for its culture. Thomas Boleyn took advantage of his close relationship with Margaret and asked if it was possible to send his daughter to her. Although places at Margaret's court were highly sought after, and Anne was no European princess, Margaret agreed and Anne Boleyn was dispatched to the Low Countries in the summer of 1513. At the time, as Hugh Paget points out, it appeared that Thomas Boleyn would be sent back to the Habsburg Court but this did not happen. In an undated letter to Thomas Boleyn, shortly after Anne's arrival, Margaret wrote:-
"I have received your letter by the Esquire Bouton who has presented your daughter to me, who is very welcome, and I am confident of being able to deal with her in a way which will give you satisfaction, so that on your return the two of us will need no intermediary than she. I find her so bright and pleasant for her young age that I am more beholden to you for sending her to me than you are to me."5
Although some historians use these words as evidence that Anne was seven, not 12, in 1513 because Margaret refers to "her young age", I think that Margaret is simply expressing her delight that Anne is so precocious and intelligent, seeing as she was a year younger than the usual age for a girl to be appointed "demoiselle d'honneur". It is evident from Margaret's letter that she is impressed by Anne and that she is looking forward to showing Thomas Boleyn Anne's progress at a future date.
We know that Anne Boleyn was a "demoiselle d'honneur" or "fille d'honneur" at Margaret's court because she is listed in a list of eighteen "filles d'honneur" at a dinner in the Baron of Reiffenberg's "Chronique Métrique de Chastellain et de Molinet":-
"Aultre plat pour les filles d'honneur et aultres femmes ordonnés par Madame de manger avec elles que sont XVIII, assavoir:-
Mesdames de Verneul, Waldich, Reynenebourg, Bréderode, d'Aultroy, Hallewyn, Rosimbos, Longueval, Bullan, les II filles Neufville, Saillant, Middelbourg, Cerf, Barbe Lallemand et la mère."6
Margaret assigned Anne a tutor, Symonnet, to help her improve her French and Anne would also have learned many other skills, such as deportment, conversation, dance and music. Hugh Paget quotes Jane de Longh (author of Margaret of Austria, Regent of the Netherlands), as saying of Margaret's court:-
"The nobles and ladies of her court reflected the influence of the taste and preferences of their mistress. They made music, wrote poetry, composed and recited at this little court in the quiet and seclusion of Malines."7
Margaret of Austria's Influence on Anne Boleyn
Anne Boleyn's love of fine art, music, poetry and her love of illuminated manuscripts obviously had its beginning at Margaret's court. Margaret had many examples of the new style of Flemish illumination, as well as older masterpieces, she had a vast collection of chanson, masses and motets by composers who Anne was later known to have loved, and her palace was full of colourful tapestries and beautiful fabric. Eric Ives writes of how "in later life Anne was excited by fabric and colour"8, a love sure to have started in the Netherlands, and she was the patron of artist Hans Holbein, just as Margaret had given her patronage to top artists on the continent.
Eric Ives also points out that Margaret of Austria's palace at Mechelen also affected Anne Boleyn's taste in architecture. He describes how the southern face of Margaret's palace, which Anne would have known in 1513, was built out of patterned local brick, in a style similar to Hampton Court Palace. Ives notes that "Anne's own palace, Whitehall, would be begun in the same style", what Anne saw at Mechelen "would be recreated for her beside the Thames twenty years later."9
Hugh Paget writes of how Anne Boleyn's time at Margaret of Austria's court had a number of "important consequences"10:-
It was the foundation of her knowledge in French and "other courtly accomplishments" which is why she came to be picked by Mary Tudor in 1514 to serve her.
The skills she learned in Mechelen, which were then developed in France, probably made her " a not unworthy consort" for Henry VIII.
Her time in Mechelen may have had an effect on the development of music and art in England. The Flemish style of music became popular and Paget points out that the Boleyns were patrons of Gerard and Lucas Hornebolt, to whom we are indebted for the founding of the art of the miniature portrait in this country."
It is clear that this climate of culture rubbed off on Anne Boleyn and it is no wonder that Henry VIII saw Anne as a fitting queen consort and mother of his children – she had been educated with princes and princesses, she had style and culture, she was highly intelligent and could talk to him on his level and discuss the things he loved. She was a Renaissance woman and he saw himself as a Renaissance prince. There is no way that Thomas Boleyn had any inkling in 1512 that his daughter would one day be queen, or that Margaret of Austria groomed Anne to be Henry VIII's consort. In 1512, Henry VIII had only been married to Catherine of Aragon for three years and was perfectly happy, anticipating that he would be married to Catherine for the rest of his life and that they would, in time, have a son and heir. But what Thomas Boleyn did do was to give his daughter the best chance of obtaining an appointment as a queen's lady, and he was successful. Anne was chosen to serve Mary Tudor, Henry VIII's sister and Queen of France, in 1514, and then Queen Claude, Francis I's wife, in 1515. Anne had spent only a year at Mechelen, but that year had a dramatic impact on her and what she learned at Margaret's court was built on in France.
Don't forget to read Part One – Beginnings.
Notes and Sources
"Anne Boleyn's Childhood and Adolescence", article by Retha Warnicke, The Historical Journal, Vol.28, No. 4, Dec. 1985
The Life and Death of Anne Boleyn, Eric Ives, p18
Ghislaine de Boom, "Marguerite d'Autriche-Sauoie et la Pré-Renaissance" (Paris and Brussels, ig35), quoted in "The Youth of Anne Boleyn", article by Hugh Paget, Bulletin of the Institute of Historical Research , LIV (1981)
Ives, p68
Ibid., p19
Baron of Reiffenberg's "Chronique Métrique de Chastellain et de Molinet", p154
Hugh Paget
Ives, p24
Ibid., p23
Hugh Paget
Other sources:-
"Correspondance de l'Empereur Maximilien I et de Marguerite d'Autriche", Volumes I and II
Margaret of Austria, Wikipedia page
"The First Governess of the Netherlands, Margaret of Austria", Eleanor E. Tremayne, for photos of the interior courtyard of Margaret's palace (p273) and details of her library.