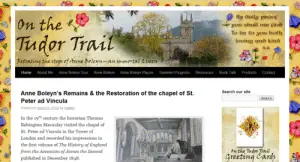 Today I'm finishing my virtual globe-trotting with a visit to Australia to visit Natalie's On the Tudor Trail Blog where Natalie will be interviewing me and I'll be giving away a signed copy of my book (what a surprise!) and an Anne Boleyn wine stopper. I do hope you can join me there, you might find out something you don't know about me!
The Anne Boleyn Collection Virtual Book Tour does not end there! On Monday, I will be visiting Elizabeth at her Tudor Book blog so catch me there! I'll share details on Monday but you can check the schedule for Monday and Tuesday at The Anne Boleyn Collection website.
Boy, do I need a rest this weekend! I hope you've enjoyed this week and a big thank you to Barb, Libby, Sarah, Sylwia and Natalie for being such gracious hosts this week. And, as always, a big thank you to you guys for being there for me! You rock!