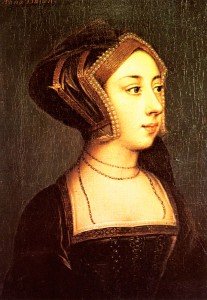 On entering the Tower on the 2nd May 1536, after her arrest, Queen Anne Boleyn asked Sir William Kingston "Shall I die without justice?", to which Sir William Kingston responded "The poorest subject the King has, has justice". But is this true? Will Queen Anne receive justice? Here at The Anne Boleyn Files, we're not so sure.
Although Archbishop of Cranmer has shown his shock at Queen Anne's arrest in a letter to the King, as has Rowland Lee, Bishop of Coventry and Lichfield, in a letter today ("God forbid it should be true"1), others seem to have accepted the Queen's guilt without question. For example, in a letter to his son, Thomas Wyatt, who is at the moment imprisoned in the Tower of London, Sir Henry Wyatt is said to have referred to "the false traitors" who have caused danger to the King and who will "be punished according to justice"2, although he believes in his son's innocence.
Are these men going to be given a fair trial? Will Queen Anne Boleyn? No, we now believe that this whole affair is going to end badly and that the removal of the Queen from power is a foregone conclusion, we only hope that she will escape with her life.
Further Reading
You can read more about the letters of Rowland Lee and Sir Henry Wyatt in my article "A Foregone Conclusion", along with a list of the reasons why I believe that Anne Boleyn, and the five men executed for adultery with her, had no hope of any real justice.
Sources
LP x. 820, Letter from Roland Lee, Bishop of Coventry and Lichfield, to Cromwell, 7th May 1536
LP x. 819, Letter from Sir Henry Wyatt to his son Thomas Wyatt, 7th May 1536