Poem – Henry's Wandering Eye
This is Part 25 of Anne Boleyn Files visitor Esther Hyams' wonderful series of poetry on the life of Anne Boleyn.
Henry VIII's wandering eye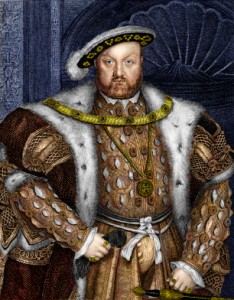 Henry VIII of England found that with women, he hated to argue
And thus women who quarrelled he had no wish to pursue.
Catherine had been well trained, avoiding confrontation
Replacing furious resentment with gracious persuasion.
In the beginning the young Anne's temper was so exciting
The King had found her witty repartees so thrillingly enticing.
They had dined together, debating religion and contemplation
Even Anne's reproofs and sulks ended in amorous reconciliation.
But soon Queen Anne's temper flared the King into a rage
Henry felt trapped and hated being in this scolded cage.
Feistiness was glorious in a mistress, causing no strife
But it was felt by men to be utterly unacceptable in a wife.
Anne wanted strict, demure morality from her ladies in waiting
And Henry was annoyed that Anne's temper was not abating.
Anne's desire for morality was no doubt due to fear and pain
She was warily vigilant for the King's eye began to wander again.
Just as Anne Boleyn herself as a damsel had once been pursued
Once more King Henry's lustful desires and amours continued.
He began with Madge Shelton, a young girl who was a little coy
Anne's cousin, and so would not be full of ambitious ploys.
A harmless, pretty, girl who was very an appealing stranger
And she was part of Anne's family so she would be no danger.
But Madge was not the first who had caught the King's eye
In autumn 1534, there was a 'handsome lady', young and spry.
All this was causing a terrifying and startling worry for Anne
To re attract her husband the Queen must do all that she can.
How could it not be worrying, considering Anne's rise to power?
And without a son, Henry could pick any ambitious, pretty flower.
Anne had no weapons with which to defend herself and fight back
On the subject of this anonymous lady she tried to publicly attack.
Henry rushed away in a rage, with such angry furious thoughts
And Anne had this handsome young rival sent away from court.
But in later 1535, Queen Anne was as strong and powerful as ever
No one in Court, not even the King, would try to contradict her.
Anne's once striking sexual magnetism, her gypsy looks and allure
At 35 years old, began to wane after all that she had endured.
Anne felt worn out by constant anxiety, stress and exertion
No longer the fresh young damsel or an entrancing diversion.
But 'the craft' that Chapuys had described, still lived, it remained
Her charm, wit, intelligence that was so alluring had been regained.
King Henry VIII, although he hated being argued with by a queen
Did not mind being managed by one in a respectful and gracious scene.
The King of England was changeable his temper would flare then dim
And the tempestuous Queen Anne still knew well how to manage him.
By Esther Hyams
Click here to read the next poem in the series – "Rages and Miscarriages".