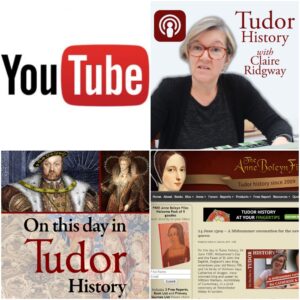 As you know – and if you don't, where have you been?! – I've been doing daily "on this day in Tudor history" talks since 1 January 2019, which is keeping me nice and busy!
These daily talks were inspired by my book On This Day in Tudor History, which I published back in 2012, in which I shared events from the Tudor period which took place on each day of the calendar year – births, baptisms, deaths, marriages, executions, coronations, battles, trials, rebellions… you name it! I decided that I would record a video talk each day of 2019 for the Anne Boleyn Files and Tudor Society YouTube channel giving details on a key event from that day. This has gone really well. I'm enoying doing these talks, my pets are enjoying making cameos, and people from all around the world are enjoying learning more about Tudor events and people – good news!
If you haven't already subscribed to my YouTube channel or you hadn't realised that I was doing these video talks, then please do go to https://www.youtube.com/AnneBoleynFiles. There are lots of other Tudor history videos there too, such as my "Questions about Anne Boleyn" series.
I have been receiving lots of comments and emails asking me if the information I share is available in other formats, as not everyone likes the video format, so here are some other ways to enjoy this information:
Listen to my "on this day in Tudor history" talks as podcasts and subscribe to enjoy them on a daily basis at https://tudorhistory.podbean.com/. You can listen there or download to enjoy them later.
Read my book!- Click here to find my book On This Day in Tudor History on your country's Amazon site. It's available as a kindle book or paperback and is a whopping 650 pages!
Search for articles on the Anne Boleyn Files – I've been writing articles here at the Anne Boleyn Files since 2009 and if the event is from Henry VIII's reign or involves Anne Boleyn, you might find an article here on the topic. Simply use the "search" box at the top of the right-hand side menu to search for the person or topic.
Or you can enjoy the videos, complete with pet cameos and church bells, at https://www.youtube.com/AnneBoleynFiles. If you are hard of hearing, you can switch on closed captions for my videos. They're automatically done by YouTube and aren't perfect, but they do help.
By the way, if you enjoy podcasts, I'd highly recommend my dear friend Natalie Grueninger's Talking Tudors podcasts too, where Natalie interviews historians and authors- see https://talkingtudors.podbean.com/