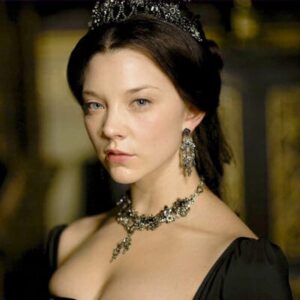 Those of you who have been emailing me asking me about the Anne Boleyn Ghost Queen Jewelry will be pleased to know that it is now available again.
Daniela had to redesign the set due to the parts being discontinued by the manufacturer, and her new design features beautiful jet black and black diamond Swarovski crystals, and sterling silver settings and filigrees.
The original Ghost Queen necklace and earrings are worn by Natalie Dormer in the final episode of The Tudors Season 4, where the ghost of Anne Boleyn appears to Henry VIII. I think you'll agree that it's a beautiful jewelry set.
Daniela has also designed the Jane Seymour Ghost Queen Necklace worn by Annabelle Wallis in the same episode.
Here is a slideshow of pictures of the jewelry for you to enjoy.
[slideshow id=358 w=300 h=300]