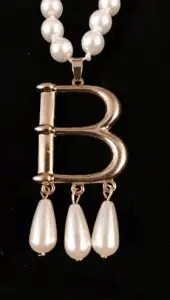 As you may have seen, our standard Anne Boleyn B necklace has been unavailable since the summer due to pearl supply problem, but we're happy to announce that we now have an Anne Boleyn B necklace available! Yay!
This replica Anne Boleyn B Necklace is handmade by Sonja in the USA and is shipped worldwide. Here are the details:
Made with 8mm glass faux pearls – These are smooth and do not scratch like plastic ones.
The length of the necklace is 17 and a half inches (approx 44.45cm).
The necklace string is hand-knotted between each pearl for strength and security.
14K gold-plated (on pewter) B pendant – It is about 1 and a half inches long (not including bottom 3 pearls, approx 3.8cm) and 2 inches (approx 5cm) long including the drop pearls. It is just over an inch wide.
Handmade in the USA by Sonja and shipped worldwide.
Each necklace comes in a purple drawstring pouch.
The necklace costs $35 plus shipping.
The necklace is available to pre-order now and Sonja will be ready to start shipping on 1st December. Due to shipping times, customers outside of the USA will have to choose International Priority or International Express if the necklace is needed for Christmas. 
Click here to order the necklace now on our shop.