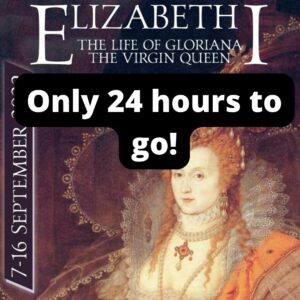 There are just 24 hours to go until my Elizabeth I online event, "Elizabeth I: The Life of Gloriana, the Virgin Queen", starts!
The event kicks off tomorrow with a talk from Dr Elizabeth Norton on the Elizabeth and Thomas Seymour Scandal, and a live-streamed talk and Q&A from me, Claire Ridgway, on Elizabeth I's early life.
I'm so excited about this event. There's nothing like learning from experts – and we have 8 of them! – and talking Tudor with fellow Tudor history lovers.
Do join us! You can see the schedule and register right now at https://claireridgway.com/events/elizabeth-i-the-life-of-gloriana-the-virgin-queen-online-event-7-16-september-2022/
Don't worry if you're busy on some days, we've got your covered! Everything will be recorded and transcribed, and you'll have lifetime access to the recordings, transcripts, and resources, plus a souvenir e-book of the event.
Sign up now! Click here.