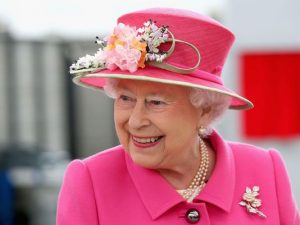 A very happy 90th birthday to Queen Elizabeth II! The Queen has two birthdays, her official birthday which is usually celebrated on the second Saturday in June and her actual birthday which is 21st April.
Her birthday is marked by a number of gun salutes including at the Tower of London. The Tower of London Facebook page has announced that "Today at 1pm, there will be a 62-round gun salute marking the 90th birthday of HM The Queen. As well as the usual 21 rounds for a Royal anniversary, an extra 20 are fired as the Tower of London is a Royal Palace and Fortress, and a further 21 for the City of London." How wonderful!
You can send a birthday message to the Queen via the British Monarchy website at https://www.royal.uk/messagetothequeen or via Twitter @BritishMonarchy
The occasion has been marked by the release of a beautiful photo of the Queen with her five great-grandchildren, and two of her grandchildren – see http://metro.co.uk/2016/04/21/
Back in September, I took part in a tribute to mark the date when Queen Elizabeth II became Britain's longest reigning monarch – click here to read my article now. And did you know that Queen Elizabeth II is descended from Mary Boleyn? Click here to read all about that.
How much do you know about Queen Elizabeth II? Why not test yourself with a fun quiz? Click here to try it now.