George Boleyn Virtual Book Tour and Giveaway – Day 8
Posted By Claire on June 4, 2014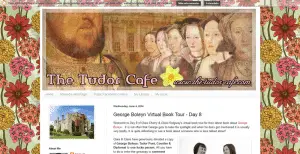 Today, Clare and I zoom from Australia to the US to take part in a Q&A with Bridgett from The Tudor Cafe.
This is yet another chance for you to win a copy of our book George Boleyn: Tudor Poet, Courtier and Diplomat, so do head over to Bridgett's blog at the-tudor-cafe.blogspot and follow the instructions. Thank you so much to Bridgett for being part of our book tour and thank you to everyone who is following it and getting involved.
There are only three more stops on our tour:
Thursday 5 June – TudorHistory.org, where we share our favourite primary sources.
Friday 6 June – The Tudor Roses, where we share an extract from our book about George's love of falconry.
Saturday 7 June – Gareth Russell's Confessions of a Ci-devant, where we look at George Boleyn's scaffold speech.