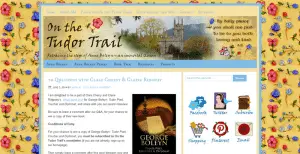 Today Clare and I are in Australia, in a virtual sense, answering 20 questions from On The Tudor Trail's Natalie Grueninger.
This is your seventh chance to win a copy of the book, so do pop over to On the Tudor Trail and follow Natalie's instructions – click here. Thank you so much to Natalie for her support and coming up with such interesting questions. You also get to see a photo of my very messy desk!
There are only four more stops on our tour:
Clare and I hope that you're enjoying our tour.
On this day in history…
1535 – Sir Thomas More, was interrogated in the Tower of London regarding the royal supremacy. Click here to read more about it.
1535 – Thomas Cromwell, Henry VIII's Vicar-General, ordered all bishops to preach in support of the royal supremacy and to remove all references to the Pope from mass books and other church books.
1536 – Richard Sampson was nominated as Bishop of Chichester by Henry VIII. Sampson had acted as the King's proctor in the annulment proceedings of Henry VIII's marriage to Anne Boleyn in May 1536.