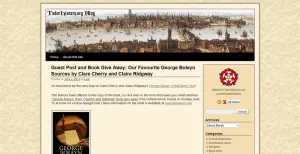 Thank you so much to Lara from TudorHistory.org for hosting Clare and I on her blog today.
Today, we talk about our favourite George Boleyn sources, the primary sources which really gave Clare and I an insight into George and his life. We hope you enjoy our article.
This is yet another chance for you to win a copy of our book George Boleyn: Tudor Poet, Courtier and Diplomat, so do head over to Lara's blog – click here – and follow the instructions.
There are just two more stops on our tour:
Friday 6 June – The Tudor Roses, where we share an extract from our book about George's love of falconry.
Saturday 7 June – Gareth Russell's Confessions of a Ci-devant, where we look at George Boleyn's scaffold speech.