Posted By Claire on June 6, 2014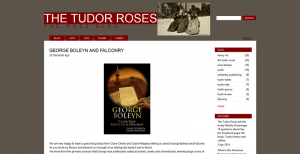 Today, Clare and I are dropping in to The Tudor Roses blog to talk about George Boleyn's love of falconry. The Tudor Roses are very special to us as we had the pleasure of meeting Emma and Darren a couple of years ago. Thank you Emma and Darren for being such kind hosts today!
This is your last-but-one chance to win a copy of George Boleyn: Tudor Poet, Courtier and Diplomat, so do head over to The Tudor Roses – click here – and follow the instructions.
There is only one more stop on our tour: