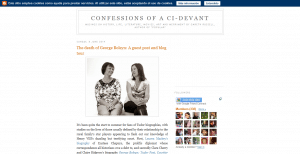 Today, Clare and I are popping over to Northern Ireland to visit Gareth Russell at his blog, Confessions of a Ci-Devant. It was postponed a day because Gareth was having computer problems yesterday – sorry! There, we share an article about George Boleyn's execution and his scaffold speech. Thank you to Gareth for being such a kind host.
This is your final chance to win a copy of George Boleyn: Tudor Poet, Courtier and Diplomat, so do head over to Gareth's blog – click here – and follow the instructions.
Clare and I would just like to take the opportunity to thank Sarah, Olga, Barb, Susan, Beth, Tamise, Natalie, Bridgett, Lara, Emma & Darren, and Gareth for allowing us to visit their blogs, it's been such an honour and we appreciate the support. Thank you also to all those who have travelled with us on our virtual book tour, it means so much to read your comments and to receive such encouragement. We hope you enjoyed all the interviews and articles.