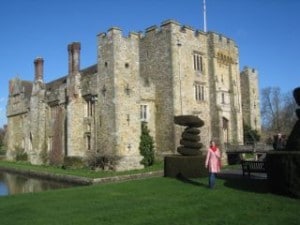 Katherine Longhi is the author of Hever Castle and Anne Boleyn, a tour guide of Hever Castle with a focus on Anne's life and legacy. Here's a blog post that she's written for us sharing her favourite rooms in Hever Castle.
If you like this post, there's even the chance to purchase the book at 50% off at the end. Now over to Katherine…
Hever Castle is one of my favourite English Castles. I'm not just saying that because I'm here on the Anne Boleyn Files today (which by the way is a dream come true!). There is something so charming about this little castle. It's large enough to be impressive, but small enough to feel intimate. It's easy to imagine Anne growing up there. Like Anne's motto, I think that Hever Castle is the Most Happy Castle.
Great Hall
Nothing brings people together more than eating, and this is where lavish meals were served. It was in this room where Henry VIII would have presided over meals when he came to pay a call on Anne and her family. Preparing a meal fit for a king was no small task. Only the best for the king!
Anne's Bedroom
It's a teeny, tiny room, the smallest that you'll see at Hever Castle, but this is where young Anne would have slept. Long before she got any ideas about becoming queen, or was sent to European courts for her education, she would have slept every night in this room. There's an original portrait of her on the wall. It is one of the few remaining which was painted when she was queen. Although the portrait is a very important piece, I prefer the sketch of Anne above the fireplace. It's a reproduction of a Hans Holbein sketch by the Italian artist Francesco Barolozzi. Anne looks amazing with her long flowing hair. It's the Anne in this sketch that is the image I have of Anne in my mind.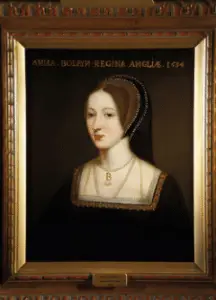 Book of Hours Room
This room houses two very specialy prayer books, called books of hours. I could stare at them for hours. One of the books is believed to have actually been in Anne's possession during her final days, when she was in the Tower of London awaiting her fate. It blows my mind that Anne probably poured over these books, taking comfort in their stories and messages. Also of note is the beautiful tapestry which depicts the marriage of Henry VIII's sister Mary, to King Louis XII of France. Anne is allegedly one of the women in the tapestry. I like to think that she's third in from the right but we don't know for sure. It's still fun to guess which one you think she is!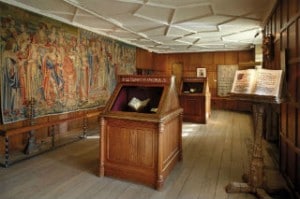 Queens' Chamber
I love this room because you can really feel the collective spirit of Henry VIII's wives. Along two of the walls are portraits of all six of Henry's wives. Although they all had different fates, they had one important thing in common – Henry. And he was quite a character. He wasn't easy to be married to no matter which wife you were (and hence what esteem he held you in). Some fared better than others, but none of Henry's wives had it easy.
Long Gallery
This room pays homage to the long history of Hever Castle. Starting with William de Hever who owned the castle over 700 years ago, you can trace the owners' histories through the stained glass windows up until the 1800s. Just like the Queens' Chamber puts Anne's marriage to Henry into the perspective of his other wives, the Long Gallery reminds us of the place Tudor times had in the overall history of the castle. There are portraits of Henry's family and Anne's initals are carved into the plaster along the wall. I could stroll back and forth down the long room all day. In fact this was the reason that Anne's father built the room, so that people could get exercise!
I hope that you're feeling inspired to pay your own visit to Hever Castle and see for yourself. In order to help you discover all that the castle has to offer, I'm giving die hard Anne Boleyn Files fans like yourself, 50% off the book for one week starting today.
Click here for the paperback and enter KHWWE4SA at checkout or
Click here for the ebook and enter FP56C at checkout
Happy visit to the most happy castle!