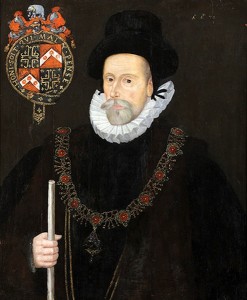 This post by Natasha Gennady Robinson is the second part of a series on Gentleman Pensioners in Henry VIII's reign, and carries on from her post A Portrait and A Gentleman: The Portrait of Catherine Knollys, and the Gentlemen Pensioners of Henry VIII. Over to Natasha…
Amongst the illustrious footnotes of Regia Insignia, a most valuable regurgitated collection of the Statutes and Ordinances concerned with the reinstatement of King Henry VIII's Royal Body Guard, then titled The Honourable Band Of Gentlemen Pensioners, we find reference as to the reason for the factions newly evolved inception:
"Several of the Chroniclers have assigned the King's marriage with the Princess Anne of Cleves, as the cause of the revival of this Corps; but Lord Herbert gives a reason independent of the marriage, which he treats as a mere pretext, and tells us it was owing to the King's fears, on account of the many discontents which prevailed both at home and abroad."1
These reasonings most Tudor enthusiasts might have deduced independently given the significance of the date of the re-inception in late 1539, and so it greatly benefits our cause to continue along this vein. If it was due to the former, and the Pensioners were so brought to existence to protect the coming of Anne of Cleves, there may be indication to this fact in the specifications found in the Chronicle of Calais, where it is clearly listed that while the majority of King Henry's court would remain in England for the coming of Henry's fourth queen, the Gentlemen Pensioners would be sent across the channel to receive her in English occupied France, and bring her safely to England.2
On considering the latter reason, that aside from the unrest the new German alliance brought through Henry's marriage to Anne of Cleves, Henry was in fact becoming increasingly unpopular amongst his subjects, but more detrimentally, amongst his peers and council, there seems much evidence to the fact in the most obvious elements of Henry's reign.
At this stage of his reign, Henry VIII had an heir, a boy not three years old, and so if Henry were to die, a great number of nobles from obvious factions could have made proper claim to the protectorship of the infant prince, even differing to the King's own will. After all, let us consider what came of Lady Jane Grey.
Whether either or both reasoning be true, it is obvious that the expense and effort spent towards establishing an organised Body Guard for King Henry VIII evolved from a growing fear by the King and by Cromwell, that the King might require twenty four hour bodily protection. And given the rumours which still prevail today of an aged and debilitated Henry VIII having his bed chambers bricked shut every night that he might sleep easy knowing no man might kill him as he slept, it seems this King was in fact growing more paranoid of plots against his life. It is also an indication to his thinking, that by employing these Spears as a faction derived from his own household, that the ageing Henry VIII was placing more and more trust in those men whom cared for his person; his grooms, even his Master of the Horse, Anthony Browne, was in fact made Lieutenant of The Gentlemen Pensioners. As we already know, Francis Knollys was a groom to King Henry before his appointment to the Gentlemen Pensioners, and Anthony Browne, as we find consistent reference to him involving the enquiry into the adultery of the successive Queen Katherine Howard, is still styled amongst those papers as Master of the Horse.3
Looking through the Letters and Papers regarding the inquisition of Katherine Howard, Henry's ill fated fifth queen, we find the majority of those notes taken "In Anthony Browne's own hand". This may make tell of the Gentlemen Pensioner's involvement in the gathering of evidence against Katherine Howard. We also find reference to William Stafford amongst the gathered evidence, where one Lady Margaret Howard divulges that aside from seeing "much familiarity between Dereham and the Queen" since Katherine Howard's marriage to the King, she had "heard one Stafford say, 'if I were as Deram I would never tell to die for it' and that 'ther was a thyng that stakk apon his stomack.'"4 And yet neither Francis Knollys, nor Catherine his wife, are mentioned at all throughout the proceedings of the inquisition of the trial of Katherine Howard. A strange omission considering some are led to believe that Catherine Knollys worked as a maid of honour to Queen Katherine Howard. The newly discovered Latin Dictionary of Francis Knollys provides evidence that Catherine gave birth to the couple's first child Henry (Harry) "the tewsdaye befour ayster daye" (which equates to the 12th of April) 1541, and their second child Mary was born in October of the next year.5 It is possible, therefore, that her service to the Queen would have been intermittent and likely minimal.
And so we find a facet which reflects upon the wealth of knowledge afforded by the initial and longstanding Statutes and Ordinances outlined for the instatement of the Gentlemen Pensioners, as well as those listed in the mandatory oath taken by all men admitted into the faction. These "Ordenances and Statutes, devised and signed by the King's Majestie" are in their entirety quite lengthy and specific to the cause of Tudor truths. The most applicable items, made digestible, are: that the Gentlemen must "make theire abode" wherever the King appoints (it is stated in a later ordinance that they must be within 12 miles of the King), and a hefty fine for inattendance was applied, which increased with every occasion; that the "said Speres shal be redy alweys to muster"; that the Speares must abide by all laws of the Realme and behave always in a chivalrous manner – the punishment for repeated bad behaviour was dismissal; that while there were 20 Gentlemen who attended upon the King at any one time, "The whole Band of the said Gentlemen Penconers, at the principall Feasts of the yere..shall give their attendance". This last statute is of some interest when regarding the birth dates within Francis Knollys' Latin Dictionary, where Francis notes ten births out of his and Catherine's fourteen children in relation to such "Feasts of the Year". Consider the above reference to the birth of their first son Henry, who is listed as being born on the Tuesday before Easter. This consistent holiday referencing system applied by Francis Knollys may give indication that he was long in service as a Gentlemen Pensioner, that due to his service he continued to use this form of referencing system until his and Catherine's tenth child, born in 1553, where he begins to note the time of day also. Considering that 1553 was the year that the young protestant Edward VI died, and his dogmatically Catholic sister Mary came to the throne, causing the Knollys and a good many other avid protestants to go into voluntary exile upon the continent that they might save themselves being burned for heresy, perhaps these later more detailed recordings of the Knollys' births are due to Francis finally being in constant attendance on his wife through lack of Royally appointed duty.
We can also see through the Gentlemenly Statutes and Ordinances – upon considering the specifications that all said Gentlemen Pensioners must be always "at the readiness" and within twelve miles of the King's person unless otherwise ordered by the King – that both Francis Knollys and William Stafford lived a considerable percentage of the year at court. And while it seems clear from the astounding rate of successful reproduction on the Knollys' part – they had eight live children within the first ten years of their marriage – that the Knollys were regularly cohabiting throughout the years of Francis' service as a Gentlemen Pensioner. We can likewise deduce from this particular specification that William Stafford, who is clearly amongst the lists of this faction (through requirement to his vocation), lived also the majority of his time at court. And so Stafford's consistent habitation within personal reach of the King, henceforth makes it impossible for William to have lived out his years with his wife Mary Boleyn in quiet obscurity in the country. And given the fact that there is little to no evidence of a Mary Boleyn, or Mary Stafford, living at court in those years, sadly it also makes it unlikely that Mary and William Stafford cohabited with any frequency during William's years of royal service. William Stafford was eventually made Standard Bearer of the Gentlemen Pensioners,6 which was in itself an incredibly coveted position. Consider for example William Brandon, killed in that most famous Battle of Bosworth Field, as Standard Bearer for Henry Tudor, after which Brandon's son Charles was taken into Henry's own household after he was crowned Henry VII. Brandon was raised along side the King's own children; given favour, land and wealth; made a Duke, and grew up to have a never ending life of favour at the court of Henry VIII. He died as one of the few peers in England who had retained that King's love, despite having secretly married Henry's sister Mary after the death of her first husband, King Louis XII of France. And so the fact that William Stafford was given this most prestigious post amongst the ranks of Henry VIII's royal body guard seems an indication that he had given consistent and long standing service as a Gentlemen Pensioner.
It is generally agreed that Mary Stafford died in July of 1543, in Essex.7 Sadly, for the ending of this well known love story, her husband William Stafford is listed as being committed to the Fleet Prison on the 5th of April of that year, where he was granted "the liberty of the garden" upon the 19th of April. We then find him "dismissed from service" on the 1st of May. He then apparently saw military service in the Netherlands for the remaining portion of that year, though he appears amongst the lists of those Spears who were to be sent to France to fight alongside Charles V. Whether or not William was present at the death of his wife Mary, the last remaining infamous Boleyn by birth, it is unclear, but it can certainly be assumed that the two did not live that quiet unassuming life in the country which so many Tudor historians like to envisage.
There is a list of the Gentlemen Pensioners which, though appearing once amongst the Eltham Statutes of 1526, has since been proven as being compiled after 1545. This list contains the name Francis Knollys amongst its ranks – which in itself disproves the earlier date as true, for in 1526 Francis would have been only fifteen years old – but William Stafford is here replaced by his brother Robert, as William was then a Spear in the armed forces in Scotland, where he was knighted for his service by the Earl of Hertford, Edward Seymour, who would later become Lord Protector for Henry VIII son and successor, Edward VI. Considering that it appears that William Stafford was listed first as Standard Bearer for the Gentlemen Pensioners on the 20th May 1550, we can only assume that William held some sway with Edward Seymour.8
In the end, somehow despite those tumultuous few years for the remaining Boleyns after the death of Anne, Catherine Carey Knollys must have held some no small nostalgia for those first years at court, for in her final and quite possibly only portrait, she wore that highly emotive and telling medallion about her heavily pregnant belly. So although we have possibly dissolved the "happily ever after" of her mother Mary Boleyn, and that of her step-father, William Stafford, who would rise amongst the ranks of Henry VIII's Gentlemen Pensioners to become the faction's Standard Bearer, we find in this portrait (known as The Van Meullen Portrait), new love and devotion between Catherine Carey and her husband Francis Knollys. Those ever devoted Knollys, whom in the end served more years between the two of them in Royal service than any husband and wife during the entire Tudor Dynasty.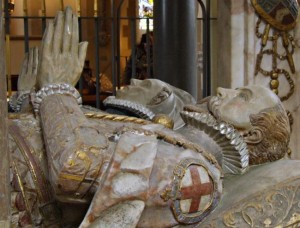 Note from Natasha: The Statutes and Ordinances, as well as the Oath, regarding King Henry VIII's Honourable Band Of Gentlemen Pensioners can be found in Regia Insignia: of An Account Of The King's Honourable Band Of Gentlemen Pensioners Or Gentlemen At Arms by W. M. Thiselton, Published in 1819 in London. Some other specifications were sourced from The Spears Of Honour and The Gentlemen Pensioners by John Glas Sandeman, published in 1912.
This article and Part 1: The Portrait and The Gentlemen are derived from my book The Somerley Portrait: A Portrait Of Catherine Carey By Levina Teerlinc which is due for release as an e book in May 2014.
Notes and Sources
Regia Insignia p. 4
The Chronicle of Calais, To the year 1540, p. 173
L&P November 1541
L&P 13th November 1541
Sir Francis Knollys' Latin Dictionary, New Evidence For Katherine Carey, Sally Varlow, apx p. 9
Plantagenet Ancestry, Richardson, D, 2nd Edition, 2011, p. 483.
Wikipedia
Plantagenet Ancestry, as above.