Eric Ives: An Obituary by Someone He Inspired
Posted By Claire on October 3, 2012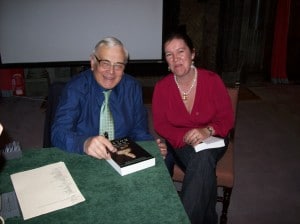 On 25th September 2012, the history world lost one of its finest, Professor Eric Ives. He was aged 81 and died after suffering a severe stroke. He will be sadly missed by his family, Sue and John, by his church, by his friends and peers, and by the history world.
Eric Ives was a brilliant historian, an excellent lecturer and professor, an engaging speaker and preacher, and also a lovely man. I could tell you of all his achievements, for example, being awarded the OBE by the Queen, but I want this to be a personal memorial from someone he helped and inspired. Without his work on Anne Boleyn, I don't believe I'd be doing what I do on a daily basis.
I was lucky enough to meet Professor Ives on two occasions and to have also corresponded with him. I remember asking him if he'd be willing to talk with Leanda de Lisle about Lady Jane Grey on our 2011 Executed Queens Tour. I really wanted him to talk about Anne Boleyn but as he'd just written about Jane I thought he'd want to do that. I remember him saying, "Are you sure you wouldn't prefer me to talk about Anne Boleyn?" and the feeling of pure joy I felt at that moment. He told me of how he never passed up an opportunity of talking about Anne and would be delighted to do it in Anne's home, Hever Castle. He joined us in toasting Anne's life on 19th May at Hever and accepted me (and a few others) completely grilling him about Anne's fall over dinner! He then completely captivated his audience when he got up to speak. We all laughed when he told us that we'd need to signal when we'd had enough of him because he "could talk about Anne until the cows came home"! We never did signal.
Even though it was late when he finished, he signed people's books, chatted with our group and also gave his contact details to a couple of our group who wanted advice on their history studies. He was humble, giving and approachable, but what struck us all was his passion for Anne and the excitement that you could hear in his voice as he spoke about her. His enthusiasm is just as evident in his book, The Life and Death of Anne Boleyn, which I call my "Anne Boleyn Bible" because it really is the go-to book on Anne, written by a man who spent decades researching her life. I would say that Professor Ives is the one responsible for rehabilitating Anne Boleyn and doing it in a way which is accessible by all, student or reader.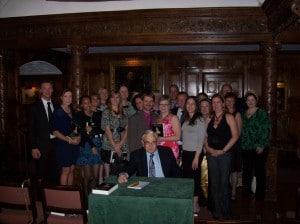 I also remember Professor Ives telling me how he came to Anne's story. He was actually researching the career of Sir William Brereton, as part of his research into historical law, when he found that Brereton was one of the men executed for alleged adultery with Anne Boleyn. This meant, of course, that he needed to research the fall of Anne Boleyn and that's when Anne's story grabbed him. Like many of us, he got 'hooked' on Anne Boleyn and he explains this in his preface to The Life and Death of Anne Boleyn; he says ""I have sometimes described Anne Boleyn as the third woman in my life, after my immediate family, and it is true that once she interests you, fascination grows, as it did for men at the time". I'm sure his words will resonate with many people who read this post and use this site. There is just something about Anne.
It wasn't Professor Ives who ignited my own passion for Anne, but his work has played a  part in keeping it burning and helping me to carry out my own research and write my own books. He didn't stop writing about Anne and researching her when his biography of her was first published in 1986, he carried on and produced a new and revised edition in 2004, after debating various aspects of her life with historians like G W Bernard and Retha Warnicke. He has also written a multitude of articles on Anne, all of which I use on a regular basis. One of the things I value about his work is his accuracy and his referencing. He backed up everything he said with primary sources and told the reader exactly where to find that source – brilliant!
When he suffered his stroke, Professor Ives was still researching and writing. He had recently published "The Reformation Experience", which I highly recommend, and it is sad to think that it's his last. The world could have done with more of his work. I know, however, that those he taught and those he inspired will carry on his legacy.
On the day he died, Professor Ives was due to speak to our group at Hever. Instead, the group raised a glass at Hever Castle and toasted him. I know he would have been moved by that and what could be more appropriate than remembering him in the home of the Queen he was so fascinated by?
I know I haven't mentioned all of his work, such as his work on Lady Jane Grey, his incredible career and his many achievements – you can read that on wikipedia or in an official obituary –  but I wanted to write about the Eric Ives I knew and what his life and work meant, and still mean, to me. He was a brilliant historian, a great writer, a captivating speaker and a true gentleman with a big heart, and he was also someone I admired hugely. Meeting him and discussing Anne Boleyn with him was one of the highlights of my life and a real honour. I will miss him.