December's Bumper Issue of Tudor Life Magazine is Out Now!
Posted By Claire on November 30, 2014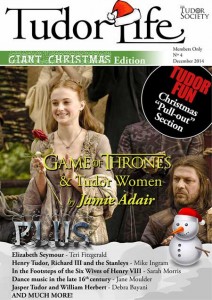 December's issue of Tudor Life magazine, the monthly magazine for Tudor Society members, is out today and is a huge bumper issue featuring articles, photographs and features from:
Clare Cherry
Olga Hughes
Jamie Adair
Sarah Morris
Mike Ingram
Teri Fitzgerald
Jane Moulder
Debra Bayani
Gareth Russell
Charlie Fenton
Melanie V. Taylor
Kyra Kramer
Beth von Staats
Cliff Barry
And me!
Plus a special Christmas fun section.
You can read a sample of the magazine at https://www.tudorsociety.com/magazine/ – simply click on the December issue. This month's Tudor Society talk is by historian and author Linda Porter and is on Catherine Parr, Mary I and Mary Queen of Scots. If you want to join the Society, there are monthly, 6 monthly and yearly subscription options and you can find out more at https://www.tudorsociety.com/