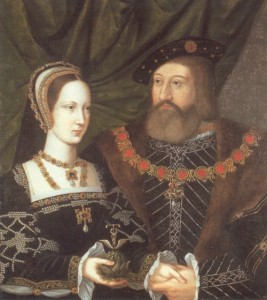 On this day in history, 25th June 1533, Henry VIII's sister, Mary Tudor, died at her home, Westhorpe Hall, Suffolk at the age of just 37. She was laid to rest at the local abbey in Bury St Edmunds, Suffolk, but her body was later moved to St Mary's Church, Bury St Edmunds, when the abbey was dissolved.
You can read all about Mary Tudor, Queen of France and Duchess of Suffolk, in my article "Princess Mary Tudor" and I would also highly recommend the article Mary Tudor – Romantic Rebel at the Scandalous Women blog, but here are a few facts about Henry's favourite sister:-
Henry's named his daughter, the future Mary I, and his favourite warship, "The Mary Rose", after her.
At the age of 18 she was forced to marry the 52 year old Louis XII of France but he died just under 3 months later.
Mary defied her brother, Henry VIII, by marrying the man she loved, Charles Brandon, Duke of Suffolk, secretly in March 1515 in France before she could be used as a pawn and married off to another prince or king for diplomatic reasons.
Mary was the grandmother of Lady Jane Grey.
She was a beauty – the Venetian ambassador called her "A Paradise".
Mary supported Catherine of Aragon during the King's Great Matter and resented Anne Boleyn.
Her motto was "La volenté De Dieu me suffit" – The will of God is sufficient for me.

In England, she was known as the Dowager Queen of France or the French Queen, rather than the Duchess of Suffolk.

Mary and Charles Brandon had four children, two boys and two girls, but both of their sons died in childhood.

She is sometimes confused with Mary Tudor, Queen of England (Mary I), and so is referred to as Mary Tudor, Queen of France.