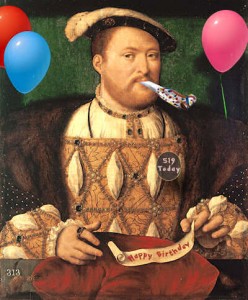 Happy 519th Birthday King Henry VIII!
Yes, on this day in history, the 28th June 1491, King Henry VIII was born at Greenwich Palace.  He was Henry VII and Elizabeth of York's third child and second son, the "spare" they needed in reserve in case anything happened to his older brother, Prince Arthur. And he was needed! On the 2nd April, Prince Arthur the Prince of Wales died at the age of 15, just a few months after his marriage to Catherine of Aragon. Not only did Henry inherit Arthur's position, Prince of Wales, he also inherited his wife!
This second son of Henry VII became King of England on the 22nd April 1509 and married his brother's widow, Catherine of Aragon, on the 11th June of the same year. He ruled for over 37 years and today, over 500 years since his accession to the throne, he is still discussed, debated and is the subject of countless movies, TV shows and documentaries. Love him or hate him, there' just no getting around the fact that he is one of the most iconic monarchs of English history.
You can find out more about Henry VIII in my recent articles – Henry VIII: Renaissance Prince and King and Henry VIII: A Tyrant or Just Misunderstood – and also at our Henry VIII Resources page.
Top Henry VIII Books
I'd recommend the following books for those of you who want to find out more about Henry VIII:-
Which books would you recommend?