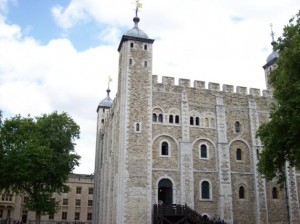 Today was a strange mixture of sadness, happiness, poignancy and excitement – conflicting emotions. After a wonderful cooked English breakfast (yum!), we headed off to the Tower of London to explore the Tower and its amazing history, and also to pay our respects at the Chapel of St Peter ad Vincula on the 475th anniversary of the execution of our heroine, Queen Anne Boleyn.
On the way to the Tower our guide, Marc, pointed out places of interest, such as Greenwich, the location of the 1536 May Day joust and the site of the Palace of Placentia, birthplace of Elizabeth I.
I took some old maps of the Tower with me so that we could identify the site of the Queen's lodgings of the Royal Palace, which is no longer standing, and I also pointed out the actual scaffold site, rather than the glass memorial. Marc was great – so knowledgeable – and he guided us around the main sites, including the Tower Hill scaffold site where I laid a rose in memory of the 5 innocent men who were executed there, along with the many other people who lost their lives there. I also took a bouquet of deep pink roses to lay on Anne Boleyn's memorial tile, which we couldn't lay ourselves as the annual basket of roses had not yet been delivered, however, as we came out of the chapel the basket arrived and the yeoman warder took our bouquet to lay by the side of it. I wrote on the card:-
" 'Remember me when you do pray', we remember you, Anne. In Memory of Queen Anne Boleyn 1501-19th May 1536, from all at The Anne Boleyn Files."
A couple of our group were able to pick roses at Hever to take, so that was very special to take flowers from Anne Boleyn's own home.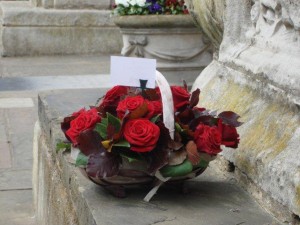 The treat of the day was Eric Ives's visit. After toasting Anne Boleyn's life with bubbly, we had dinner at Hever, joined by Eric. He received quite a grilling from us from dinner and then he spoke about our favourite subject, Anne Boleyn, and shared some slides with us of portraits and contemporary sources. I will be sharing more from Eric's talk when I get back, but suffice to say that we all thoroughly enjoyed it and we all had the chance to get our questions answered and our books signed.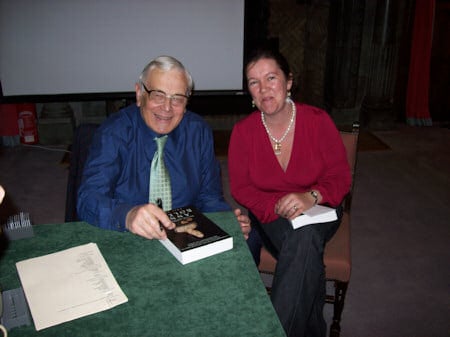 As I look back on a day spent discussing Anne Boleyn with people who care about her I think it was a fitting memorial to her life and death. RIP Queen Anne Boleyn.
Enjoy the photos from our day at http://www.flickr.com/photos/theanneboleynfiles/sets/72157626759790454/