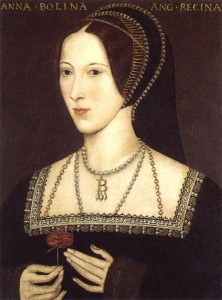 Today is one of mourning and tragedy, our Queen is no more, having been brutally slain earlier today. Executed as a traitor within the confines of the Tower of London's wall. Everybody is in shock, nobody is saying anything and the world is a darker and sadder place.
Sir William Kingston was ordered by Thomas Cromwell to clear the Tower of London of foreigners and reporters who may be sympathetic to Queen Anne Boleyn's cause, so our roving reporter, Sir Tim Ridgway, was unable to attend. Those that did attend spoke of Queen Anne Boleyn's poise, dignity and courage, and we are proud to have called her our Queen.
The following mysterious eye witness account was handed in to our office just a few minutes ago by a hooded figure who refused to give his name. We are not sure of what to make of it…
The Execution of Queen Anne Boleyn
From my newly acquired vantage point, I see her emerge from the west side of the White Tower. She is accompanied by Kingston and 4 serving ladies. An English hood covers her dark hair, which is pulled up as not to impede the effectiveness of the sword. Her dark gown is lined in royal ermine fur and cut low. In true Anne fashion, her unsaid statement is in the form of a bright red underskirt that peeks through her cloak as she walks.
The morning sun is shining a spotlight on her as she makes her way across the green, toward the newly erected scaffold. Upon reaching the stairs, she pauses for a moment and looks up at the sky as if she were mapping her path to Heaven. I smile at her, even though I know that she cannot see me.
Hundreds have gathered to watch her die; some to mourn…some to celebrate. I can see Suffolk and Richmond, and Cromwell, of course.
Standing proud, she addresses those gathered: "Good Christian people", she began, "I am come hither to die, for according to the law, and by the law, I am judged to death; and therefore I will speak nothing against it. I come hither to accuse no man, nor speak anything of that wherof I am accused and condemned to die; but I pray God save the king, and send him long to reign over you, for a gentler, or more merciful prince was there never; and to me he was ever a good, a gentle, and a sovereign lord. And if any person will meddle of my cause, I require them to judge the best. And thus, I take my leave of the world, and of you all, and I heartily desire you all to pray for me. O Lord have mercy on me! To God I commend my soul."
I wipe the tears from my eyes, as do many others in the crowd. The silence echoes as she removes her cloak and hood, and then kneels. Her lips move in a silent prayer that rings loudly in my ears, repeating "Jesus receive my soul, O Lord, God, have pity on my soul."
Without hesitation, the slayer reaches for his sword and then she is Queen no more.
She is beside me now, and we watch together as her ladies cover her and carry her toward the chapel. She begins to cry when she realizes that no one made preparations for a proper burial. Her ladies take care to undress her, clean her body as best they can and then place her in a salvaged elm chest. We remain there together and watch as the chest is lowered into the ground…then covered and left unmarked.
It is only then that she turns to me and says, "I knew I would see you again, dear brother." I take her hand as we turn and walk quietly into eternity.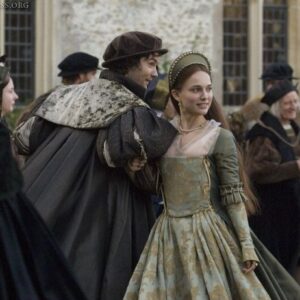 Back to 2011
Congratulations to our Anne Boleyn Day Competition winner, Memory Gargiulo, who wrote the above eye-witness account. The judges loved the twist at the end and we all found it very moving and a fitting tribute to our favourite historical character.
Memory wins either a $30 Amazon voucher or a $30 Anne Boleyn Files voucher for use on The Anne Boleyn Files shop and, as she is on The Executed Queens Tour, I will make sure that she gets a round of applause! Memory used the following sources:-
The Life and Death of Anne Boleyn, Eric Ives, Chapter 24 "Finale", p357-359
Anne Boleyn: In Her Own Words & the Words of Those Who Knew Her, Elizabeth Norton, p208-270
The judges were impressed with all of the entries we received and it was really hard choosing one winner so a big thank you to all of you who entered. We would like to give a second prize of a $10 Amazon voucher or Anne Boleyn Files voucher to Katherine Stinson as the judges also raved about her article on Thomas Cromwell – congratulations, Katherine!
I must also mention Nasim who wrote hers in old English just like the Chronicles and contemporary sources – great idea! You can read all of the entries at Anne Boleyn's Execution – Competition Articles 2011. Again, it was so hard to choose a winner so thanks to everyone for their amazing articles and hard work, the judges commented on how well the articles brought that day in May 1536 to life.
Further Reading
For a detailed account of the events of the 19th May 1536, you can read my article 19th May 1536 – I Have a Little Neck: The Execution of Anne Bolyen.