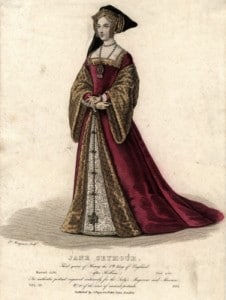 We can't quite believe the news this morning – King Henry VIII became officially betrothed to the Lady Jane Seymour at 9am, just 24 hours after the execution of his former wife and queen, Anne Boleyn. Anne Boleyn's body isn't cold in the ground yet and he is planning his next wedding, which is due to take place at the end of the month.
We are sickened by this news, which we heard from Eustace Chapuys, the Imperial ambassador. Chapuys said:-
"Mrs. Semel [Seymour] came secretly by river this morning to the King's lodging, and… the promise and betrothal (desponsacion) was made at 9 o'clock. The King means it to be kept secret till Whitsuntide; but everybody begins already to murmur by suspicion, and several affirm that long before the death of the other there was some arrangement which sounds ill in the ears of the people; who will certainly be displeased at what has been told me, if it be true, viz., that yesterday the King, immediately on receiving news of the decapitation of the putain entered his barge and went to the said Semel, whom he has lodged a mile from him, in a house by the river."1
We can confirm that there is definitely lots of muttering going on at court about the Lady Jane and the King and how he had arranged to marry her before Anne Boleyn was even tried and found guilty. Some are even saying that the French executioner was ordered before her trial and that rings true if we consider how long his journey must have been from Calais. There seems to be sympathy now for Anne Boleyn, albeit rather too late, and horror at the King's actions.
Source
LP x.926, Chapuys to Granvelle, dated 20 May 1536