The Colour of Poison Blog Tour
Posted By Claire on April 25, 2016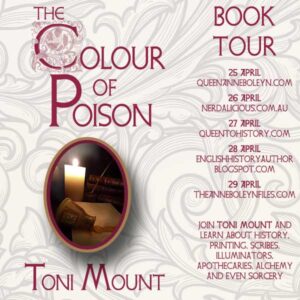 Author Toni Mount is doing a week long book/blog tour for her debut historical novel The Colour of Poison: A Sebastian Foxley Medieval Murder Mystery starting today with an article over at QueenAnneBoleyn.com in which she talks about how the novel came about.
Click on the image to check out her other stops. There will be a book giveaway at each stop so do join in. Toni will be here at The Anne Boleyn Files on Friday to talk about alchemy and sorcery.
The Colour of Poison is a great read and you click here to find out more about it.