Medieval Murder Mystery Bargains
Posted By Claire on September 1, 2020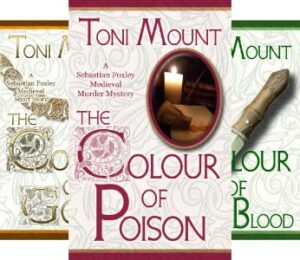 Huge congratulations to my dear friend and fellow MadeGlobal author Toni Mount on the release of her latest Sebastian Foxley medieval murder mystery novel, book 8: The Colour of Shadows. I was able to read an advance copy of it and I have to say that it's the best one so far, I loved it.
If you haven't read any of the Seb Foxley books, now is the perfect time because books 1-7 are 99p or 99c each until the end of Thursday (3 September). I just love them and for me they just get better and better, 7 and 8 are my favourites so far. Well done, Toni, at crafting such a readable series with characters that you just fall in love with (plus some you hate!).
Here are the links to the series on Amazon US and UK:
They're also available in paperback, but if you do want to take advantage of this offer and you don't have a kindle then you can download the free kindle reading app for your mobile device, tablet or computer.
The Colour of Shadows is out today and I do hope that Toni is busy working on book 9! I, for one, can't wait!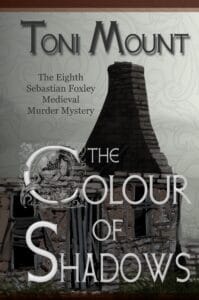 Here's the blurb for the latest instalment:
When Seb Foxley discovers a child's body in his workshop and another lad goes missing, our medieval sleuth is perplexed at every turn. His investigations take him across London Bridge to Bankside in Southwark, where he becomes embroiled in the sinister shadows of the city's underworld. Bankside is a labyrinth of depravity and crime where every harlot intends the downfall of respectable men and every scoundrel has a secret. In a netherworld unlike anything he's experienced before, can Seb unravel the murky mysteries of The Mermaid Tavern, recover the stolen lad and restore him to his family?
Meanwhile, all is not as it should be in the Foxley household and lives are in danger as Seb's old nemesis returns to London. More than one noble lord is mad, bad and dangerous to know. About to become a father for the second time, Seb is arrested as a murder suspect. With his apprentices behaving badly, how is our hero ever going to win the day?
The eighth Sebastian Foxley medieval murder mystery from bestselling author Toni Mount takes us deep into a dark world once again.