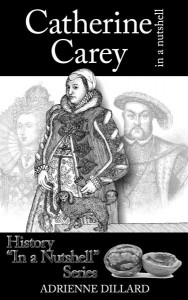 Congratulations to Adrienne Dillard on the release of her book Catherine Carey: In a Nutshell on kindle and as a paperback.
Many of you will know Adrienne from her best-selling Cor Rotto: A Novel of Catherine Carey, and will be as delighted as I am that Adrienne is now sharing the research she did into Catherine's life in this non-fiction book, which is part of MadeGlobal Publishing's "in a nutshell" series. Catherine Carey, daughter of Mary Boleyn, is a fascinating character.
Here are the book details…
MadeGlobal's History in a Nutshell Series aims to give readers a good grounding in a historical topic in a concise, easily digestible and accessible way.
Catherine Carey in a Nutshell examines the life of Catherine Carey, daughter of Mary Boleyn, from the controversy surrounding her paternity through her service to Henry VIII's queens, the trials of life in Protestant exile during the Tudor era, and the triumphant return of the Knollys family to the glittering court of the Virgin Queen.
Adrienne Dillard, author of the best-selling novel Cor Rotto: A Novel of Catherine Carey brings together what is known about one of Queen Elizabeth I's most trusted and devoted ladies for the first time in one concise, easy-to-read book.
Paperback: 98 pages
Publisher: MadeGlobal Publishing; 1 edition (October 10, 2015)
Language: English
ISBN-10: 8494457403
ISBN-13: 978-8494457401
ASIN (Kindle): B016GQVMEO
Here are the Amazon links for the US and UK, and it's also available on the other Amazon sites – you can search using its ISBN or ASIN. It will also be rolling out to other booksellers very soon:
Adrienne's novel Cor Rotto: A Novel of Catherine Carey is also available as a paperback and kindle book, and is now available in Spanish as Cor Rotto: La historia de Catherine Carey, una dama en la corte.