Calendar Sale – Now Only $5.99 for Two!
Posted By Claire on January 26, 2012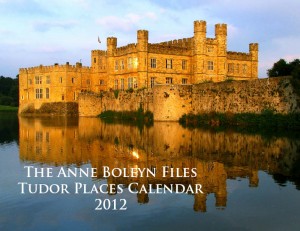 We have surplus stock of our Tudor Places 2012 Wall Calendar left so we've just slashed the price to $5.99 for two calendars so that Daniela can have her office back!
This calendar is a wonderful celebration of some of the best buildings linked to Tudor history which still exist today.
Consisting of photos taken by visitors to The Anne Boleyn Files website, a group of judges selected the best 12 images from a huge number of photos sent in. We've added some important Tudor dates to make this a truly wonderful and fascinating wall calendar.
Simply buy one and we'll add another to your order free of charge. Click on the image above or go to https://www.theanneboleynfiles.com/products-page/stationery/tudor-places-wall-calendar/ to order
Dimensions – 11 inches by 8.5 inches
28 pages with a photo per month
Wall calendar style, pre-punched for wall hanging
[slideshow id=407 w=450 h=350]