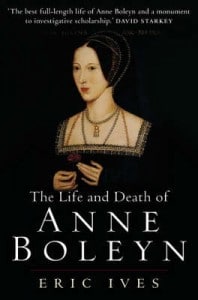 I'm often asked for book recommendations on Anne Boleyn and it seems appropriate to share this recommendation on the anniversary of Eric Ives' death seeing as he wrote my all-time favourite book on her: The Life and Death of Anne Boleyn.
I call The Life and Death of Anne Boleyn my Anne Boleyn "Bible" because it is THE Anne Boleyn handbook. It covers everything about Anne, her life, her time as queen and her fall, and is incredibly detailed. It is fully referenced too, which means that readers can check sources for themselves and see what evidence Ives based his theories on. It was also written by a man who was passionate about Anne Boleyn. I was fortunate enough to meet Eric Ives on a few occasions and to correspond with him, and he loved nothing better than sharing his knowledge about Anne and answering questions about her. When he spoke to a group on one of the tours I arranged, he said that he could talk about Anne "until the cows came home" and to let him know when we got fed up of him, we obviously never did. We could have listened to him "until the cows came home"!
You can read my full review of The Life and Death of Anne Boleyn on my review site – click here. I would also recommend his books Lady Jane Grey: A Tudor Mystery and The Reformation Experience. I will be raising a glass to Eric Ives today, in memory of a man who kept my passion for the Boleyns burning and who was a true historian.
You can read the article I wrote in memory of Eric Ives, after his death last year, at Eric Ives Obituary. Historian Leanda de Lisle has shared an article on Anne Boleyn on her blog in memory of Eric Ives, see http://blog.leandadelisle.com/post/62159149628/article-on-anne-boleyn-in-tribute-to-eric-ives-who-died